Lunch, Anyone? Boston Burger Company
Where innovation and combination reign supreme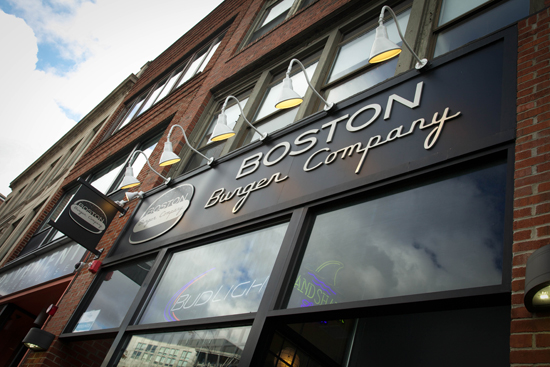 Diners arrive at Boston Burger Company (BBC) with big, and justified, expectations. In just four years, this burger joint has been featured on the Food Network's Diners, Drive-Ins and Dives and Rachael Ray's Battle of the Best Burger (a contest it won handily). Then there are the more than two dozen burger combinations that have earned a loyal following. So when we stopped by the eatery's Boylston Street location (the original is in Somerville's Davis Square) for lunch, we had high hopes as well as an empty stomach. We left eager to return.
Getting there just before noon, we were surprised to find the small dining area almost empty. However, by the time we left nearly an hour later, we had to pick our way through a crowd of diners.
At first glance BBC's menu appears disappointingly simple, but lunch cuisine is taken seriously here. The burger combinations are masterfully designed, giving patrons a unique experience.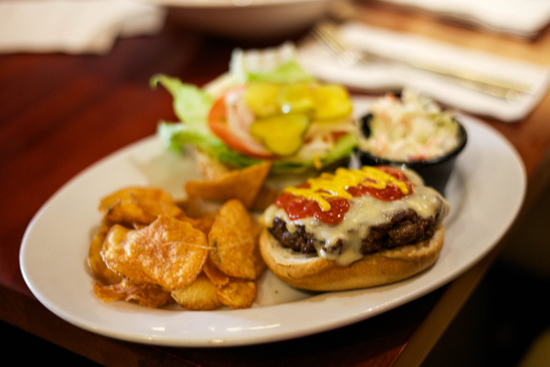 The menu's large middle section—colored green as if to say, "Go!"—lists all 28 combos. From the Artery Clogger (deep-fried, beer-battered burger topped with bacon, American cheese, and BBQ sauce, $9.50) to the 420 Burger (American cheese, bacon, BBQ sauce, mozzarella sticks, onion rings, French fries, and mac & cheese bites, $10.50) to the Vermonster (maple mayo, sharp cheddar cheese, caramelized Granny Smith apples, red onions, maple syrup, and bacon), each burger has its own personality.
We decided to order the Hot Mess ($10.49), an eight-ounce certified Angus beef burger dressed with sweet potato fries, American cheese, chopped pickles, jalapeños, bacon, red onion, lettuce, and Thousand Island dressing—the Rachael Ray contest winner—and the more conventional Boston Burger with Cheese ($8.49), an eight-ounce burger topped with lettuce, tomato, onion, American cheese, and pickles. Our burgers were cooked to order and were juicy and flavorful under their blankets of toppings. Surprisingly, the Hot Mess was not the overwhelming mouthful of flavors we had feared. The topping combos had clearly been carefully chosen, resulting in a balance of sweet and spicy that would appeal to more than just the most daring of foodies. The Boston Burger did not disappoint either; the traditional toppings allowed the flavor of the burger to hold center stage.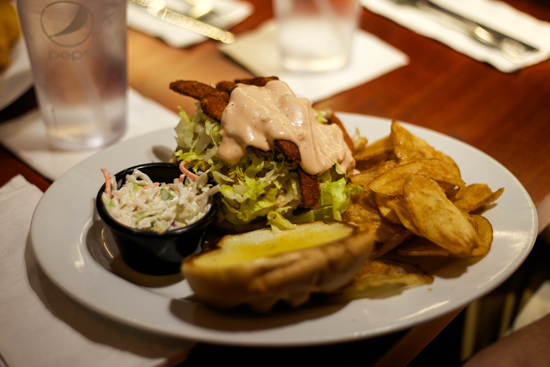 The menu here is rounded out with a number of calorie-packed appetizers, such as the Mini Mac-ancini, deep-fried mac and cheese balls ($6.25), cheeseburger ravioli ($8.99), and staples like onion rings ($6.25) and mozzarella sticks ($6.25). There are also boneless wings ($9.50), which come with a choice of six sauces, from honey BBQ and buffalo to buttery garlic parmesan and BBC's special Spicy Terodactyl. The generously sized sandwiches feature either chicken cutlet or grilled chicken breast. Our favorite was the Chicken Parm ($8.50). Our waitress suggested topping the sandwich with mozzarella rather than the standard provolone. It was an excellent recommendation: the melted cheese, combined with the homemade sauce (served steaming hot) made for the ultimate topping.
Given Boston Burger Company's reputation for innovative culinary combinations, we couldn't leave without trying the pizza fries ($6.95), thick-cut French fries smothered in pizza sauce, melted cheese, and pepperoni. While it sounded appealing, it proved less so. They were served in a bowl for sharing, and soaking in the pizza sauce made most of the fries soft. Next time, we'll try one of the other novelty French fries.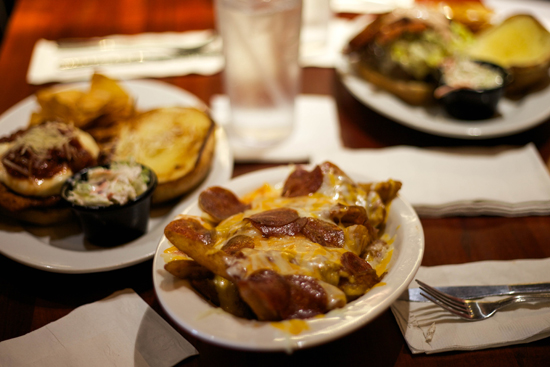 If you're not afraid to try new things, sampling all of BBC's 28 burger combinations could be a fun gastronomic project.
Boston Burger Company, 1100 Boylston St., is open 11:30 a.m. to 11 p.m. Monday through Saturday, noon to 10 p.m. Sunday; phone: 857-233-4560. The restaurant accepts all major credit cards. By public transportation: take any MBTA Green Line trolley to Auditorium. There is also a BBC at 37 Davis Square in Somerville.
This is part of a weekly series featuring Boston lunch spots of interest to the BU community. If you have a suggestion for places we should feature, leave it in the Comment section below. Check out our list of lunchtime tips on Foursquare.
Frank Brogie can be reached at brogief@bu.edu.
This Series
Also in
April 18, 2018

April 11, 2018

March 29, 2018