Lunch, Anyone? Bonchon
Korean fried chicken and a varied menu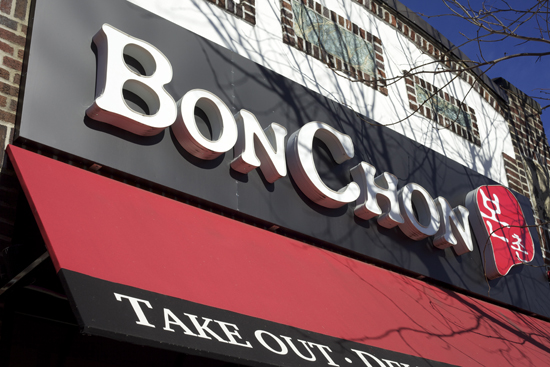 Most Americans think of fried chicken as a dish native to the United States. But wander into almost any neighborhood in Korea and chances are you'll find a local fried-chicken joint. The Koreans have recently exported their version of the classic staple to the United States. Bonchon, the global Korean fried chicken chain popular in the Philippines, Indonesia, and Thailand, as well as in Korea, now has 30 locations in this country, including, happily, one in Allston. Offering superb fried chicken along with an extensive menu of other Korean cuisine, Bonchon is one restaurant you have to try.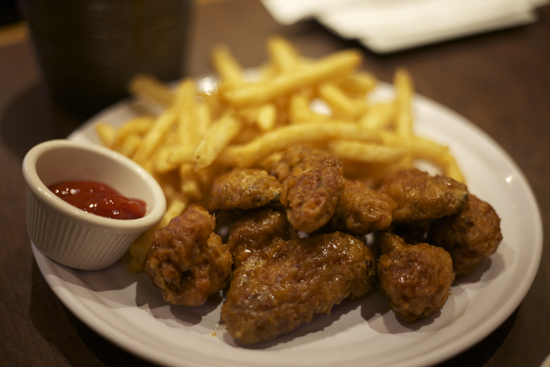 We stopped by for lunch on a quiet afternoon, and although the place wasn't busy, it's often packed at dinnertime. A few bites of the fried chicken explained its popularity—this is fried chicken done right. Diners choose the type of chicken they want (wings, drumsticks, or strips) and the sauce (soy garlic or hot). We decided to try the soy garlic wings ($7.95). While we couldn't taste the garlic, the sweet, succulent soy sauce was tasty, so we didn't mind. The fried outer layer was so crispy you had to really sink your teeth in to get a good bite. The chicken inside was tender and moist. If you're in the mood for something with a bit more heat, try the hot and spicy chicken, made with red chili peppers. At Bonchon, which in Korean means "my hometown," the indecisive can order a half soy garlic, half hot fried chicken.
Although noted mostly for its chicken, Bonchon's extensive menu includes a range of noodles, soups, salads, and sushi. First we tried the okdol bibimbap ($9.95), a sizzling mixture of bulgogi, rice, egg, and vegetables. The flavors were pleasant but mild—we'd suggest adding a splash of the spicy sauce that's provided on the side. Just a little bit has quite a kick, so be sure to have a glass of water—or three—handy.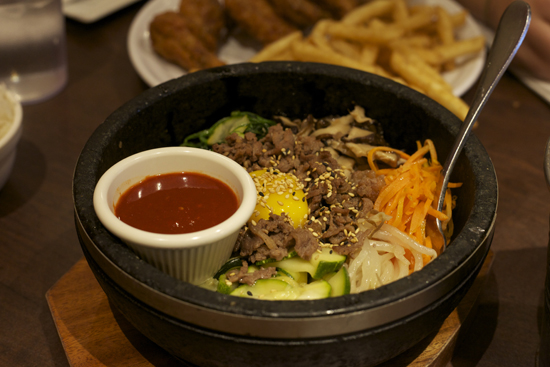 We also ordered the nabeyaki udon ($9.95), wheat noodles in a light fish broth with shrimp tempura, clams, and vegetables. The thick, soft noodles were delightful, and the fried egg on top of the bowl added an interesting accent.
Bonchon also boasts a sizable sushi list, including classic maki, signature maki, vegetarian maki, and sushi à la carte. Although we didn't try any of the vegetarian options, they looked especially enticing; there was sweet hummus maki ($4.95), made with sweet potato tempura and hummus, and tropical maki ($4.95), made with mango, pineapple, and avocado. We opted instead for the crazy maki ($7.50), a blend of shrimp tempura, cucumber, avocado, and tobiko, with spicy mayo. It didn't disappoint. The shrimp was spicy and fresh, and the pieces were so big we couldn't eat them in a single bite.
Bonchon offers a solid menu all around, with plenty of options for every taste, but in the end, it's the fried chicken—hand-brushed with signature sauces—that are something to write home about.
Bonchon, 123 Brighton Ave., Allston, is open from 11:45 a.m. to 12:20 a.m. daily. Lunch is served from 11:45 a.m. to 3 p.m.; phone: 617-254-8888. Delivery and take-out are available. View the menu online. Bonchon accepts all major credit cards. By public transportation, take an MBTA 57 bus to Brighton Avenue and Linden Street. There is also a Bonchon in Cambridge, at 57 JFK St.
This is part of a weekly series featuring Boston lunch spots of interest to the BU community. If you have any suggestions for places we should feature, leave them in the Comment section below. Check out our list of lunchtime tips on Foursquare.
Irene Berman-Vaporis can be reached at imbv@bu.edu.
This Series
Also in
April 18, 2018

April 11, 2018

March 29, 2018