GRS Students Create Exhibition at Broadmoor Wildlife Sanctuary
Mapping project inspires retrospective of work dating to early 1900s
If there's one thing that captures Valerie Pasquarella's attention, it's a good map. The Graduate School of Arts & Sciences doctoral student in applied remote sensing discovered a trove of them earlier this year stowed away and gathering dust at Mass Audubon's Broadmoor Wildlife Sanctuary in Natick, Mass., where she's based her dissertation research for the past two years. As staff at the sanctuary were cleaning house in preparation for a six-month renovation, Pasquarella volunteered to store boxes of archives at BU. When she opened them, she discovered photos, artwork, dried herbs, and program posters, some dating back to the early 1900s.
"A lot of it would have been thrown out," says Pasquarella (GRS'15), who combed through the collection with Sam Toabe (GRS'15), a history of art and architecture master's student who was working at the sanctuary over the summer. They decided it would be a shame if the items weren't shared, so they proposed creating a retrospective exhibition in Broadmoor's Saltonstall Nature Center.
Broadmoor director Elissa Landre loved the idea, and so they curated what Toabe calls an amalgamation of visual representations for the sanctuary's November 2 reopening. Their exhibition, titled Rediscover Broadmoor, is on display through December 17.
The experience proves, Pasquarella says, that "one man's trash is another man's treasure."
"The fact that Val and Sam saw it from a different viewpoint was very valuable," says Landre, who has been the sanctuary director for 30 years. "I couldn't have done it; I know too much about the pieces.…The combination of Val's scientific approach and Sam's artistic approach was a perfect meld."
Nestled along the northern bank of the Charles River between South Natick and Sherborn, the Broadmoor Wildlife Sanctuary is an island of biodiversity anchored in a suburban sea. One of dozens of Mass Audubon sanctuaries dispersed across the commonwealth, Broadmoor has 9 miles of trails and 624 acres of diverse terrain that is home to turtles, otters, beavers, ducks, and at least 150 species of birds. BU investigators have a long history of basing their research there, among them Robert Tamarin, a former College of Arts & Sciences professor and chair of biology, who studied mammalian dispersal and demography in the 1980s and '90s, and Les Kaufman, a CAS professor of biology, who has surveyed the fish population there for decades. As one of Pasquarella's advisors, Kaufman recommended Broadmoor, where she could be part of a BU team studying the interaction of human and natural systems in Massachusetts and abroad, for her dissertation work.
For the past two years, Pasquarella has combined Landsat images of Earth—taken every 16 days for 3 three decades—with local naturalists' observations and Broadmoor's rich archive of hand-drawn maps and ecological and species surveys to create dynamic maps that show how the sanctuary has changed from 1984 to the present.
That time period overlaps nicely with Landre's tenure as director. She says traffic has increased more than sevenfold in that time, from 3,000 to 22,000 visitors annually, as the surrounding suburbs have expanded. More people and construction projects translate into acres of driveways, sidewalks, and tennis courts that divert rainwater and regularly flood tributaries leading to the Charles, like Broadmoor's Indian Brook.
The habitat has shifted in other ways too, Landre says. Invasive exotic species, such as Japanese knotweed and purple loosestrife, are choking out native plants and animals. And Southern bird species, like the Carolina wren and the red-bellied woodpecker, now visit the sanctuary as seasonal temperatures become warmer.
Pasquarella is charting all these changes on a series of maps, which will play like a movie when stitched together sequentially. She hopes scientists and naturalists will interact with them, correcting potential errors in habitat classification and adding new data on the movement of species.
Kaufman says that Pasquarella "is helping to put another important piece in place for the science of understanding how we sustain all of the things that we get from nature."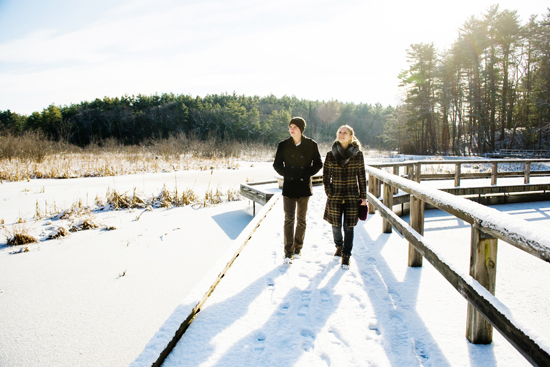 The work has already drawn crowds at the exhibition, Landre says. She's found visitors parked in front of a 15-foot-long map showing an aerial view of the Charles River basin, a close-up of Broadmoor, and the sanctuary's network of trails. "It's a real launch point for very interesting conversations about land use," she says.
Eventually Pasquarella would like to extend her Broadmoor project to cover other sanctuaries and conservation areas for a comprehensive, interconnected view of how the commonwealth's landscape and species have changed over time. Her goal, she says, is for scientists and local officials to use her model as a predictive tool for future land management decisions.
"Once we have a better understanding of the spatial relationships between species and their habitats in urban areas, we can begin making better choices about how to protect entire ecosystems across fragmented landscapes," she says. "For example, the model could help answer whether it would be better for Mass Audubon to use resources to protect a large parcel of land adjacent to an existing property or to protect a smaller, more distant parcel that appears to be a key node in a larger network of habitat patches."
That's where Landre sees the most value in Pasquarella's work, which, she says, could allow her and other conservationists to anticipate what might happen should, say, sugar maples or birch trees disappear, events that would uproot New England syrup production and alter the habitat for bird species, like chickadees, that nest in holes in decaying birch trunks.
The future of conservation will depend on collaborations between naturalists like Landre, who have a thorough knowledge of local ecosystems, and scientists like Pasquarella, who can see the big picture and employ high-tech models that facilitate complex land management decisions.
"Putting the two together," Landre says, "is what's so powerful about the partnership."
The exhibition Rediscover Broadmoor will be on display at the Saltonstall Nature Center at the Mass Audubon Broadmoor Wildlife Sanctuary, 280 Eliot St., Natick, Mass., through December 17. Admission is free and the center is open to the public Tuesday through Friday, from 9 a.m. to 5 p.m., and Saturday, Sunday, and Monday holidays, from 10 a.m. to 5 p.m. Mass Audubon members can walk the sanctuary's trails for free. All other adults pay $5, children and seniors $4.