Archaeologists Explore an 18th-Century Estate
BU-run summer program yields artifacts, budding high school archaeologists
When landscape designer, gardener, and lifelong environmentalist Mary May "Polly" Binney Wakefield died in 2004 with no heirs, she left a 23-acre Milton estate that had been in her family for more than 300 years. Archaeologists and preservationists were thrilled to find valuable paintings, antique cars, and the remains of 18th-century buildings. And because Wakefield's will mandated that her property be used to promote lifelong learning, the estate is now open, by appointment, to anyone who would like to visit.
This summer, those visitors included a group of high school students from the Wakefield Summer Archaeology Institute, led by Boston University doctoral candidates Jenny Wildt (GRS'14) and Sara Belkin (GRS'15). The group took part in a two-week archaeological dig at the site, which was settled in 1707.
Belkin says the program is one of three archaeological field schools in the country specifically for high school students. It is designed to encourage students to consider careers in archaeology and to demonstrate that much of what is required in the field—attention to detail, note-taking, and critical thinking—is applicable to other disciplines.
The first day of the two-week session is a crash course in proper archaeological field methods, such as how to dig and accurately record findings. After that, says Belkin, who is studying historical archaeology, "they're excavating right alongside us in the field."
This summer's dig focused on the yard around the estate's farmhouse, which was built about 1730. With such a large property, it can be tricky to figure out where to begin digging—Belkin estimates that archaeologists have explored only 20 percent of the estate's underground historical features. So the first step was studying historical documents, such as written letters or maps. The second step was a close study of the land. "You figure that a building was around at some point, but maybe it's gone now," Belkin says. "We use topography, the surface of the land. You can see rises on flat land, and most likely there's something underneath."
On day six of the dig, the team worked on three 1.5-meter by one-meter rectangle-shaped holes, called units, in the yard of the farmhouse. Students paired off to cover each unit, led by Belkin, Wildt, and volunteer Paulo Medina (GRS'17). It was hot and muggy, and the few fans hooked up on an extension cord provided little relief.
Two units were dug close to the farmhouse in the hope that they were near the site of an old walkway. The third unit was dug in a circular dip in the grass, because Belkin and Wildt believed that it may have been a well or a privy, which would hold many artifacts.
"What was normal back then was to throw trash in your backyard, well, or privy," Belkin says. "We're digging up trash—the stuff that people threw away because it had broken, they didn't want it, or it was no longer in fashion. There was no recycling truck."
As an archaeologist, Belkin is interested in how the Wakefield Estate represents the gradual social and economic evolution of the people who lived there. As the merchant family became wealthier, they moved from the farmhouse and other modest structures, building a mansion and elaborate gardens.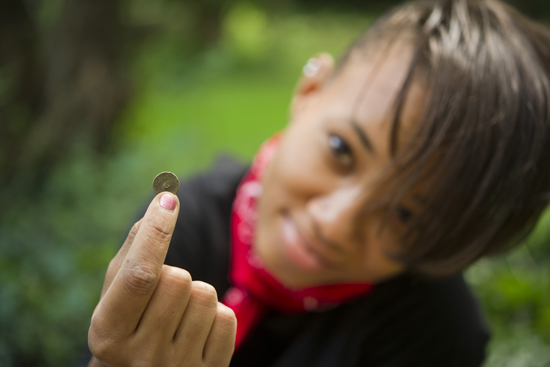 Since the property was shared by tenant farmers, servants, and its wealthy owners, the artifacts found by the students had a variety of uses. The group found two skeleton keys that could have belonged to a servant who needed to get into buildings, the leg of a porcelain doll, and a perfume topper that could have belonged to a wealthy woman, Belkin says. Among the summer's other 5,000 finds are an 18th-century spoon and ceramics, animal bones, coins, nails, and a sterling silver man's ring. The students also unearthed the foundation of a structure that predated the farmhouse.
Over the next few weeks, Belkin will catalogue this summer's findings and search historical photos for evidence of the engraved silver sterling ring. She will focus her dissertation on the lowest terrace of the estate's formal garden, part of last year's dig, at a site believed to be the location of the original summerhouse (similar to a garden pavilion). That dig yielded 13,000 artifacts.
John Pino, a 17-year-old from North Quincy, Mass., says he joined the camp because he was fascinated by the idea of studying what the history books don't cover, "because history is written by the victor, the big figures." This was Julia Oran's second year at the archaeology camp, and the Newton, Mass., resident says she is fairly certain she'll gravitate towards archaeology in college. "I like archaeology so much that I tried to convince my parents to let me go to Italy this year, which, sadly, they didn't go for," she says.