Women's B-ball Kicks Off Season Against Eagles
Terriers host archrival tonight
When the women's basketball Terriers take the court tonight against rival Boston College, their number-one goal is to play as a team.
"We've been facing this season as a group," says head coach Kelly Greenberg. "We have a lot of our scoring back, we have a lot of our tenacity back, so we're just building on that, and we're going to add pieces to the puzzle as we move forward."
The Terriers sported an impressive 23-9 record last season, but failed to make the NCAA tournament after falling to the University of Maryland, Baltimore County, 77-61 in the America East semifinals. Despite losing captains Alex Young (COM'12) and Caroline Stewart (COM'12) to graduation (posts they had held for three years), the team's top three leading scorers returned, including two-time America East Player of the Year Chantell Alford (MET'13).
Rashidat Agboola (SMG'14), who burst on the scene last year averaging 10.1 points and a team-high 8.8 rebounds a game, saw her playing time nearly triple as the season progressed. She will cocaptain this year's squad along with Mo Moran (CAS'13) and Danielle Callahan (SED'14).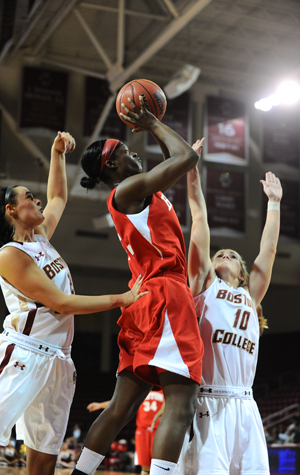 "Last year was a really good year for our team," says Agboola. "It was a good experience for me to play with a lot of great players and with a lot of good leaders. I worked over the summer and hoped for the best. I was just lucky to play with a good group of girls."
Moran ranks fourth all-time in program history in assists, with 384, and was named to the America East All-Conference First Team as a junior. Callahan hits the court as a Terrier tonight for the first time after NCAA transfer regulations forced her to sit out sophomore year and an injury made her miss all of last season.
Four freshmen enter the fold for the 2012-13 campaign, joining last year's 10 returning letter winners. Dionna Joynes (CGS'14), Katie Poppe (SMG'16), Clodagh Scannell (CGS'14), and Dana Theobald (CGS'14) will all be looking to chip in early in their collegiate careers.
"They've mixed in very well with the team," Greenberg says of the new Terriers. "They're jelling with our chemistry, which is extremely important. They have good personalities, and they also understand they have really good players in front of them. They're just learning and need to keep learning every day."
One of the things the freshmen have already learned is that this team sets lofty goals at the start of each season. Greenberg makes it a point to tell her players they should aim to go 16-0 in America East every year, in addition to totaling 23 wins (out of 29 games) by the end of the regular season.
"We know we can't win every game and that we have to be realistic," she says. "We have some tough competition here at home with BC, Richmond, and West Virginia coming from bigger conferences, so we know that we're facing top competition, but we also know we can hang with them. We want to win a lot of games."
Her players are with her on that. "We want to really compete this season, get a good regular season record, and get some big wins, in-conference and nonconference," says Agboola. "We're really looking to win the games we're supposed to win and also win some of the big challenges we have."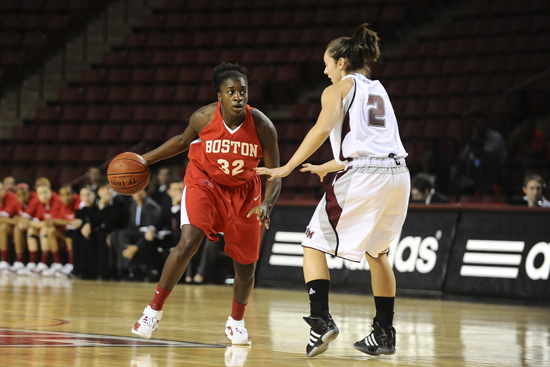 Among those challenges are a trip to play the University of Michigan over Thanksgiving break and a home contest against St. John's University, currently ranked number 14, on December 1. The team will need big performances from players like Agboola and Alford to win those games, but for them, it all comes back to being a team.
"I don't think people realize we have a lot of different personalities," Agboola says. "We're a really fun team, we're a really different group of girls, but I think that's why we all get along."
"They're extremely humble," Greenberg says. "If I go to point out how someone did something well, they get embarrassed. They're extremely unselfish and all they want is for the person next to them to do well and that we win as a team. They don't care if they get the credit or not."
America East's nine head coaches have chosen the Terriers to finish second in the regular season. But because Boston University announced plans to leave the America East conference and join the Patriot League next year, the AE has invoked its bylaws and banned BU teams from competing in conference championships this season. The team can secure an invite to the Women's National Invitational Tournament, which features 16 of the nation's top women's Division I basketball teams, and be eligible for an at-large berth in the NCAA Tournament by winning the AE regular season championship.
The BU women's basketball team hosts the Boston College Eagles in the season opener tonight, Friday, November 9, at 7 p.m. at Case Gymnasium, 285 Babcock St. Tickets are $7 for the general public, $5 for BU students, faculty, and staff, and free with a sports pass. There will be a pregame fan fest starting at 6 p.m., with a Beat BC T-shirt giveaway, free food, and more.
Paul Ryan can be reached at pryan15@bu.edu.