What Every Student Should Know about Backpacks
Heavy loads send 28,000 people to doctors each year
Today is National School Backpack Awareness Day. Yes, there is a National School Backpack Awareness Day, and for a very good reason. Wearing an ill-fitting or too-heavy backpack can lead to sprains, pinched nerves, fractures from falls, and dislocations. In 2010 alone, backpack injuries were responsible for 28,000 visits to doctors' offices and emergency rooms, according to the U.S. Consumer Product Safety Commission.
Occupational therapist Karen Jacobs, a Sargent College of Health & Rehabilitation Sciences clinical professor, knows all about the dangers of backpacks. An expert on ergonomics and the healthy development of children, as school begins Jacobs fields calls from all over the country about how to prevent backpack injuries.
In observance of National School Backpack Awareness Day, Jacobs (SAR'79) and several SAR occupational therapy students will conduct "weigh-ins" at two local elementary schools, Jackson Mann School in Brighton and St. Mary of the Assumption School in Brookline. Members of the Sargent College Rotaract Club will also offer a free weigh-in for BU students, faculty, and staff from 5:30 to 6:30 p.m. in front of Sargent College, and will demonstrate the best way to pack your backpack.
BU Today spoke with Jacobs about how to prevent backpack injuries. The number-one rule of thumb? The weight of your backpack should never exceed more than 10 percent of your body weight.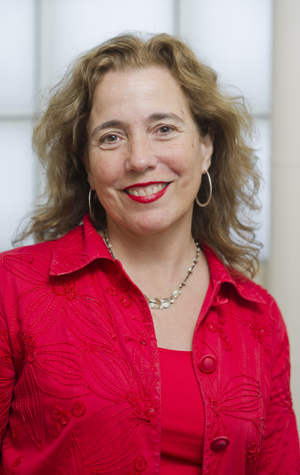 BU Today: How big a health problem are overloaded backpacks?
Jacobs: More than 79 million students across the United States cram in textbooks, binders, notebook computers, pencils, pens, erasers, craft supplies, lunches, extra clothes for gym class, and make the trek to school. Researchers have reported that backpacks can weigh more than 40 percent of a child's body weight. Just imagine a child weighing 60 pounds carrying a backpack weighing 24 pounds! The good news is that with some easy behavior changes, this health issue can be eliminated.
According to the latest research, who is at risk and how can we prevent injuries?
Research suggests that wearing a backpack incorrectly, wearing one that is too heavy, the amount of time carrying the backpack, the distance walked, inadequate distribution of weight in the backpack, and poor placement of items in the backpack can be contributing risk factors for discomfort, fatigue, muscle soreness, musculoskeletal pain, especially in the lower back, respiratory problems, and other issues. The American Occupational Therapy Association (AOTA) offers some tips for preventing these issues. They include:
Always select a backpack that is the right size for you.
Distribute weight evenly. Load heaviest items closest to your back and balance materials so that you can easily stand up straight.
Wear the hip belt if the backpack has one, to improve balance and take some strain off sensitive neck and shoulder muscles.
Check that the packed backpack weighs no more than 10 percent of your body weight. If it weighs more, determine what supplies can stay at home or at school each day to lessen the load.
If the backpack is still too heavy, consider a book bag on wheels.
I alternate wearing a backpack and using another one with wheels as I walk around campus at BU. My selection of a backpack depends on what I need for the workday.
How do you know which is the proper backpack for you?
You should always choose a backpack that is the right size for you. As a child grows, the backpack from the year before may no longer be the right size. Make sure the height of the backpack extends from approximately two inches below the shoulder blades to waist level, or slightly above the waist. The right backpack should have padded shoulder straps, a padded back, chest, and hip straps, a reflector, and a compartment on the side of the bag (for older students).
You say there's an art to packing a backpack.
Since our bodies are more stable with weight that is lower in the backpack and closer to our body's center of gravity, it's recommended that heavy items such as notebook computers and large textbooks be closest to the bottom and back of the backpack. If you're taking water bottles to school, use the side compartments for them and consider filling with water once you are at school.
You're going to be conducting weigh-ins at two local elementary schools today and one here at BU. Do you find that these weigh-ins change students' behavior?
Yes, we do find that our backpack awareness activities change behaviors. When we've gone back to the same school a year after our backpack awareness event, we have observed that backpacks are lighter and fit better, and students share strategies that they are using to improve their comfort while wearing a backpack.
What message are you hoping to convey with the children's book about a little girl and her autistic brother you recently coauthored, How Full Is Sophia's Backpack?
The main message is to raise awareness about proper backpack usage, through the interaction of a grandma with her two grandchildren, one of whom is a child with autism.
There is a digital version of How Full Is Sophia's Backpack? on my BU blog.
Tell us about the weigh-in today for BU students.
We're trying to increase awareness of the potential discomfort and injuries that can be directly caused by using an incorrectly fitting backpack, overpacking a backpack, or improperly using a backpack. For example, carrying it on one shoulder. The key is to provide information that can be used in their daily lives. That is: pack it right, wear it light!

As part of National Backpack Awareness Day, members of the Sargent College Rotaract Club will hold a weigh-in for BU students, faculty, and staff in front of Sargent College, 635 Commonwealth Ave., today, Wednesday, September 19, from 5:30 to 6:30 p.m.