Tofu: It's What's for Dinner
BU Vegetarian Society advocates eating less meat
K. C. Mackey was standing on the sidewalk near Marsh Plaza, offering passers-by a warm smile and a Humane League brochure, whose cover featured two spotted piglets and a fuzzy chick. Some smiled back and grabbed a brochure. Others waved a dismissive hand or ignored her completely. In the course of a half hour, she had two conversations about animal rights and reducing meat consumption, both with friends. One changed the topic, the other said she is slowly cutting meat from her diet and switching from milk to soy products.
"It's better to make slower changes than go all at once," advised Mackey (CAS'13), who became a vegan eight months ago. "For me, I just can never go back."
Mackey was among a handful of students, all of them members of the BU Vegetarian Society, passing out leaflets this particular day. Founded four years ago, the club aims to end animal cruelty, save the environment, and halt world hunger by promoting a vegetarian or vegan lifestyle. Members meet every other week, organize potlucks, and host events like last fall's 10 Billion Lives Tour, where participants received $1 apiece from the Farm Animal Rights Movement to view a four-minute video about factory farm abuses. The society also protests organizations like the Ringling Bros. and Barnum & Bailey circus for its alleged abuse of elephants. And they invite speakers such as Gene Bauer, cofounder and president of Farm Sanctuary, and Zoe Weil, an educator at the Institute for Humane Education, to campus to discuss such issues as animal rights and ways to live a kinder and more compassionate life.
Last fall, the club hosted a talk by Breeze Harper, author of Sistah Vegan. Harper discussed the way a vegan diet can overcome sexism and racism.
Opting for a vegetarian or vegan lifestyle remains relatively rare in the United States. Only 5 percent of American adults consider themselves vegetarians and 2 percent vegans, according to a July 2012 Gallup poll. The survey also reported that single adults are more than twice as likely as married adults to be vegetarian and that women are more likely than men to opt for the lifestyle.
About 7 percent of BU students identify as vegetarian and another 3 percent as vegan, according to an annual Dining Services survey, which led Dining Services staff to meet with Vegetarian Society representatives to discuss their dietary preferences. Based on those conversations, Dining Services has made several changes to its menus and cooking practices, according to Sabrina Pashtan, Dining Services sustainability coordinator. Now tofu scrambles are available for breakfast at all dining halls. Nondairy or nonmeat soups and rice dishes are prepared with vegan stock. And salad bars have been rearranged so items like yogurt don't splash into vegan staples like peanut butter. Employees even use different knives, pans, and utensils when cooking for vegan students. And because of the club's advocacy, BU has converted to using cage-free eggs.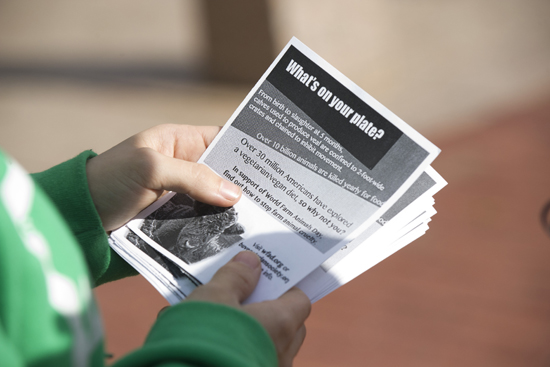 Every vegetarian or vegan has a conversion tale. Rachel Atcheson (CAS'13), 2012–2013 Vegetarian Society president, was a high school senior when she learned about factory farms' pollution, their alleged abuse of animals, and the health risks of eating meat that could be contaminated with salmonella or E. coli as a result of unclean slaughterhouse practices. "I had been a very long-haired hippie before that," she says, but this newfound knowledge pushed her toward eliminating meat completely from her diet. Two months later, she went vegan, cutting out eggs and dairy products.
For club treasurer Victoria Brown (SAR'15), the choice to become vegan was the result of her growing concern for animal rights and her awareness of the health benefits of veganism—among them, lower cholesterol and blood pressure levels and a decreased risk for heart disease and cancer. She announced her decision to her mother three days before her 15th birthday. Instead of cake, she got a cantaloupe slice adorned with candles.
Another member, Robert Borgoño (CGS'13), says his decision is anchored in a concern for the environment, animal rights, and world hunger. Raising animals for meat requires significantly more land and water than does raising fruits and vegetables, he says. In fact, last year the Journal of Animal Science reported that it takes nearly 53 gallons of water, about 75 square feet of land for grazing and growing feed, and 1,036 Btus of fossil fuel energy—enough to power a microwave for 18 minutes—to produce a quarter pound hamburger.
Borgoño says some of his friends have forsworn meat because of factory farm worker abuse. Whether for the sake of humans or animals, he says, "I'm trying to reduce the amount of suffering that my life is causing."
Some eco-conscious consumers are reluctant to completely eliminate meat, eggs, and dairy from their diets, choosing instead to buy items like grass-fed beef, cage-free eggs, and raw milk. That may be a first step toward wise eating, Brown says, but she "would challenge people not to get comfortable" with the idea that by doing that they're accomplishing the same goals as vegetarians or vegans. And Atcheson warns that labeling can be deceptive. Free-range eggs, for example, may be laid by hens in battery cages outfitted with a seldom-used door to the outside. If consumers choose to buy meat, dairy, and eggs, she advises getting them directly from a trusted farmer.
Baby steps are key to successfully converting to a vegetarian or vegan lifestyle, club members say. They suggest starting with a Meatless Monday, reading about dietary options online, visiting a nutritionist to find out which foods provide necessary vitamins and minerals otherwise found in meat, dairy, and eggs, or attending one of their club meetings.
"Our goal is not to make everyone vegan or vegetarian," says Borgoño, the club's vice president, "but to reduce meat consumption."
The BU Vegetarian Society meets every other Wednesday during the school year from 6:30 to 8 p.m. in the CAS Environmental Lounge, Room 442.