Nightlife: The Yard House
Beers and ales of every stripe
The first thing you notice during a visit to the Yard House is its size: everything about the place is big. That goes for the Fenway area restaurant's sprawling interior, the menu—with about 150 beers, stouts, and ales—and the portions (come hungry). With its boisterous, casual atmosphere, Yard House is a great place to share a meal with friends, catch a game (there are 28 large flat-screen televisions), or just grab a drink.
With more than 60 tables and a large island bar, the Yard House can get pretty loud, but that's part of its fun. During warm weather months, patrons can dine on the outdoor patio. The state-of-the-art sound system plays a steady stream of classic rock. Yard House founder Steele Platt continues to select the daily playlist for each of the nearly two dozen restaurant locations.
We stopped by on a recent Saturday night with a few friends for some food and drinks. The restaurant typically is crowded on weekend nights and during big televised sports games and getting a table can take up to an hour. Fortunately, we had to wait at the bar for only about 20 minutes before being seated.
We decided to split a couple of popular appetizers: buffalo wings ($12.95) and chicken nachos ($10.85) with spicy pinto beans, cheddar and jack cheeses, red and green sauces, tomatoes, onions, cilantro, sour cream, and guacamole. Both were delicious and perfect for sharing.
The Yard House menu has several unique snacks and appetizers. Try the seared ahi sashimi ($12.95), served with soy vinaigrette and wasabi and pickled ginger, the onion ring tower ($8.65), beer-battered onion rings dusted with parmesan cheese and served with chipotle and buttermilk ranch dipping sauces, firecracker ribs ($11.45), chilled edamame ($3.65), or shiitake garlic noodles ($8.15), noodles tossed with butter, garlic, and shitake mushrooms topped with parmesan cheese. Even the French fries have a special kick—the truffle fries ($3.95) are topped with shredded parmesan and herbs, the sweet potato fries ($3.95) are served with a maple bacon cream dip.
If you're looking for more substantial fare, you've come to the right place. Among the extensive offerings are grilled burgers, sandwiches, pizza, taco plates (two tacos served with spicy rice and beans), and salads. House favorites, range from a dish called mac + cheese² (chicken breast, applewood bacon, wild mushrooms, campanelle pasta, and cheddar and parmesan cheeses) to spicy jambalaya, seafood, steaks and ribs, and street tacos. The restaurant also offers an array of chicken or beef substitutes made from soy, wheat, pea proteins, vegetables and ancient grains called gardeinTM.
If you're on a tight budget, save some money by visiting the Yard House during its happy hour, Monday through Friday from 3 to 6 p.m., and late night, Sunday through Thursday from 10 p.m. until closing, periods, when you can enjoy select appetizers and pizzas at half price. The restaurant also offers a lunch menu every day, from 11 a.m. to 5 p.m.
Yard House, which takes its name from the three-foot-tall glass containers that were handed to stagecoach drivers in Great Britain following long journeys, is deservedly renowned for its beer menu.The restaurant boasts that it offers the world's largest selection of draft beers. A glass-enclosed keg room houses up to 5,000 gallons of beer at any time. The restaurant's website notes that three to five miles of beer lines stretch from the keg room to the island bar, where beer is maintained at a constant temperature of 34 to 36 degrees.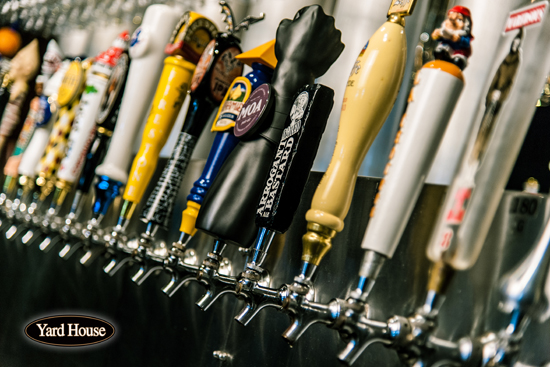 Patrons can choose from seasonal ciders ($4 for a shorty, $6.50 for a pint), craft beers ($3.75 to $7 for a shorty, $6.25 to $8.25 for a pint), wheat ales, dark-roasted ales, and beer blends. Those 21 and over can even order a framboise or chocolate stout served with vanilla ice cream ($6.95).
The Yard House, 126 Brookline Ave., Boston, is open Sunday through Thursday, 11 a.m. to 12:30 a.m., Friday and Saturday, 11 a.m. to 1:20 a.m., and accepts all major credit cards. With several locations across the country, the Yard House is also at Legacy Place in Dedham. To get to the Fenway area Yard House, walk from BU's South Campus to Kenmore Square, take a right onto Brookline Avenue, and walk for about three minutes, passing Fenway Park.
This is part of a series featuring Boston nightlife venues of interest to the BU community. If you have any suggestions for places we should feature, leave them in the comments section below.
Andreia DeVries can be reached at adevries@bu.edu; follow her on Twitter at @andreia_dev.