Nightlife: Paradise Rock Club
Storied venue has music for every taste at affordable prices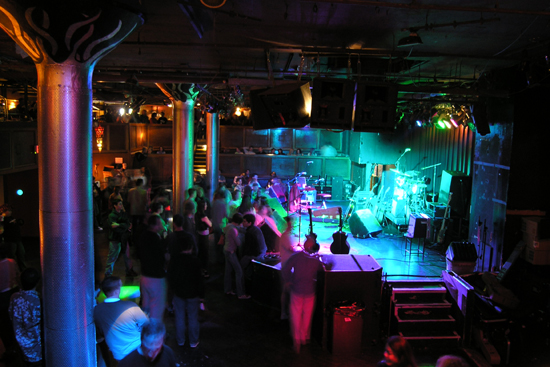 They say size doesn't matter. That's certainly not true at Paradise Rock Club, whose intimate setting is its biggest asset.
Regardless of what band you're there to see, the Paradise offers a proximity to the musicians that many clubs don't. The club's capacity of about 700 changes its vibe depending on who's on stage. During a concert by the Boulder, Colo.–based Wood Brothers, a band known for its blend of folk, blues, and bluegrass, there was a decidedly mellow, laid-back feel. But the place was rocking at a performance we saw there by Balkan Beat Box, whose Middle Eastern, Balkan, and gypsy punk-inflected tunes had the crowd jumping and dancing.
All tickets are general admission, so if you arrive early enough, you're virtually guaranteed a front-row experience. Unobstructed views of the stage are available from almost every corner, so even if you get there later, you should be able to enjoy the performance. Because of its size, Paradise also has superior acoustics. The main floor is standing room only (we've only been there once when chairs were provided), so you'll want to wear comfortable shoes. The balcony has seats.
A mainstay of the Boston music scene for 35 years now, Paradise has a reputation for spotting (and booking) up-and-coming artists before they're household names. Tom Petty and the Heartbreakers, R.E.M, Elvis Costello, Rage Against the Machine, Tom Waits, and the Police are just a few of the now-famous musical acts that have played there.
A quick review of the upcoming calendar confirms Paradise's something-for-every-musical-taste reputation—from lesser-known alternative bands to popular mainstream sensations. Among the acts scheduled: Boston-based psychedelic funk band Addison Groove Project; Leftover Salmon, a bluegrass band from Boulder, Colo.; Grammy-winning Jamaican dancehall and reggae artist Sean Paul; Motion City Soundtrack, a Minneapolis-based rock band whose latest album, Go, was released this past June; and Of Montreal, a rock band from Athens, Ga., known for its mix of electronica, funk, vaudeville, and music hall influences. Find a complete schedule of performances here.
Notwithstanding the Paradise's reputation, ticket prices remain remarkably affordable for most shows. Advance box office prices range from $15 to $25, with some exceptions. Tickets can be ordered online, usually via Ticketmaster, but with no additional handling fee, they're cheaper at the box office (inside the club).
The adjacent Paradise Front Lounge is open prior to each show and serves appetizers, salads, sandwiches, entrees, and drinks; most prices are between $5.95 and $11.95. The lounge also has four large flat-screen TVs for viewing sports.
In addition, there are several bars inside the venue for patrons over 21.
Paradise Rock Club, 967 Commonwealth Ave., is open from 6 p.m. to 2 a.m. daily; the box office is open Monday through Saturday, noon to 6 p.m.; phone: 617-562-8800. Most shows are 18-plus, although some are 21-plus; consult the schedule before purchasing tickets. There is no cover charge. Most show tickets are $15 to $30. Take the MBTA Green Line B trolley to Pleasant Street.
This is part of a series featuring Boston nightlife venues of interest to the BU community. If you have any suggestions for places we should feature, leave them in the comments section below.
Andreia DeVries can be reached at adevries@bu.edu; follow her on Twitter at @andreia_dev.