Mixing Business with Pleasure
SHA Diner's Club eats out, talks shop
"Open your mouth," cried Eddy, one of three hibachi chefs at Osaka, a Japanese sushi and steak house in Brookline. "That's all you gotta do."
The first student did as she was instructed, as Eddy flicked a raw zucchini cube into her open mouth. The theatrical but good-natured chef continued around his horseshoe of guests until everyone had nailed a morsel of food. (Well, everyone except me. Apparently laughter is not conducive to success.) The group gathering on a recent evening were School of Hospitality Administration students and members of the BU Diner's Club.
Eddy was hardly typical of the chefs usually encountered by these club members, who visit local high-end restaurants to talk business, enjoy each other's company, and—of course—dine. Members vote on the restaurants they would like to visit, and club officers then negotiate the size of the party and the cost of the prix fixe menu with the restaurant. These SHA students generally pay half the price, with the rest covered by SHA and the Student Activities Office. This night, the cost for the 30 students and guests was $15 apiece for an appetizer, entrée, and dessert.
"That's one of our main goals—to subsidize it so we can have people experience fine dining," said club president George Butcher IV (SHA'13).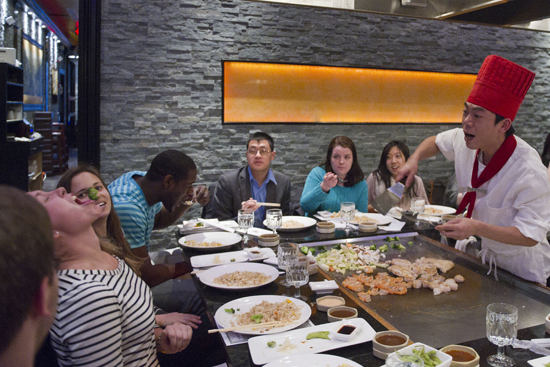 On average, 20 to 25 Diner's Club members are chosen by lottery from a pool of more than 100 students to attend an event, usually held about twice a semester. In addition to enjoying a great meal, students get to chat for several minutes with the general manager or head chef at places like Elephant Walk, Clio, or Aquitaine, peppering the restaurant professionals with questions about food, service, and profit sharing.
But not much chatting occurred the night Eddy helmed Osaka's hibachi table. Guests nibbled on salads and appetizers (from sushi and tempura to edamame and gyoza) as the three chefs rolled their carts to the grill tables.
"How are you guys doing tonight?" Eddy half-screamed to his table of a dozen guests. Everyone silently nodded acknowledgement while chewing. "You guys like whatever I cook," he declared.
And with that pronouncement, Eddy became the ringleader of what quickly turned into a food circus of sorts. He clapped shallow serving bowls together and barked, "Wake up!" before divvying up "Japanese yum-yum sauce" and "Japanese A1" (ginger) sauce for each person. He then rattled a tune against his grill using a spatula and a cooking fork, flipping, spinning, twisting, and twirling the instruments like nunchucks (dropping them only occasionally) and bursting into song: "I like to move it, move it. I like to move it, move it."
The diners clapped appreciatively as they watched wide-eyed, not quite sure what Eddy would do next. That turned out to be squirting a smiley face onto the grill with cooking oil and setting it on fire. To extinguish the flame, he grabbed a bobble-head-like doll and squirted water on the fire with its (ahem) wee-wee. A woman peeked from behind the kitchen curtain, her face beaming. Apparently Eddy keeps the staff entertained as well. According to manager Joe Lin, each chef spends one year training on the kitchen's hibachi grill before being allowed to cook in front of guests.
Eddy next prepared smoky-flavored fried rice while grilling columns of shrimp, scallops, chopped vegetables, and a curious tower of raw onion rings. "Fire in the hole!" he screamed, as onions exploded in flames. He quashed the fire with his spatula and deftly dished fried rice and a tender shrimp appetizer onto each plate.
"Let me know if you don't like it," Eddy said. "I use it for my dinner." No one took him up on the offer.
In short order, he grilled chicken and steak according to guests' preferences, scrubbed down the table, and disappeared behind the kitchen curtain to the applause of the students.
Asked his opinion of the service as he was finishing his steak, Brendan Ko (SHA'14) said chefs like Eddy were the unique attractions of a hibachi steak house. "I think the louder they are, the better," he said.
While dessert arrived, students listened attentively as club faculty advisor Peter Szende, a SHA associate professor of the practice, showered Lin with questions about the number of guests he serves, his profit margins, and his biggest challenges. Szende thinks these club excursions are a valuable learning experience for hospitality students. "You have to give students the opportunity to discover, to see the real-life operations," he said.
A self-professed foodie and as well as a social person, Stephanie Furman (SHA'13) pronounced the night a success. "It's a great opportunity to get to know people in SHA," she said, "and go to a restaurant you wouldn't normally go to."
The next excursion of the Diner's Club is to L'Espalier on Monday, April 23. SHA students can contact president George Butcher IV or vice president Jenna Lewanda (SHA'14) for more information.