Lunch, Anyone? The Salty Pig
Charcuterie with style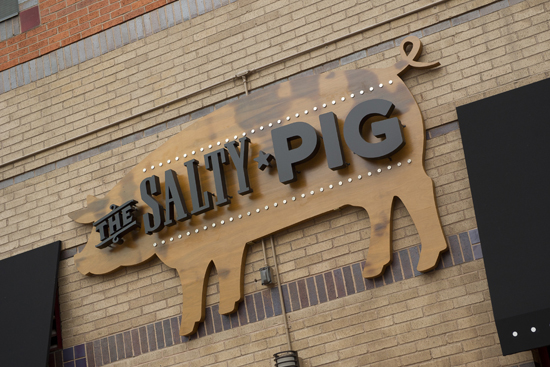 From the moment we stepped into the Salty Pig and heard the Jackson 5 singing "One More Chance," we knew we were going to love this lunch spot.
In the Back Bay, only steps from Copley Square, the Salty Pig is a blend of flavorful food and stylish atmosphere. Its chalkboard walls are adorned with abstract drawings that appear to be either blueprints or oddly shaped swine. With its high wooden-top tables and red and black chairs, the restaurant has the feel of a modern, hip—and large—kitchen.
The music—punctuated by Motown and rock—created a lively environment. It was loud enough to get your foot tapping, but happily you could still have a conversation without shouting.
The Salty Pig is noted for its scrumptious charcuterie, "stinky" cheeses, salads, and some pizzas that you probably won't find at your local pizza joint. The Salty Pig pizza ($14) comes with pig parts, parmigiano oil, and a pale ale vinaigrette. New to the restaurant, we were pleased to discover that the menu provides a helpful step-by-step guide to ordering. "At the Salty Pig you pick like this," reads the menu, guiding customers first through the "salty pig parts," which range from Prosciutto Galloni ($7), traditional ham, aged one year, to Porchetta ($5), wood oven–fired pork shoulder, and Chicken Liver Mousse ($5), served with fennel pollen and sea salt. Next, you select from among the restaurant's delicious cheeses, both sheep and cow, including cheddar ($7), chevrot ($9), and an English stilton ($8), before choosing from the "round out the plate" portion of the menu, which includes toppings such as marinated olives ($1), clover honey ($1), and balsamic onion jam ($1).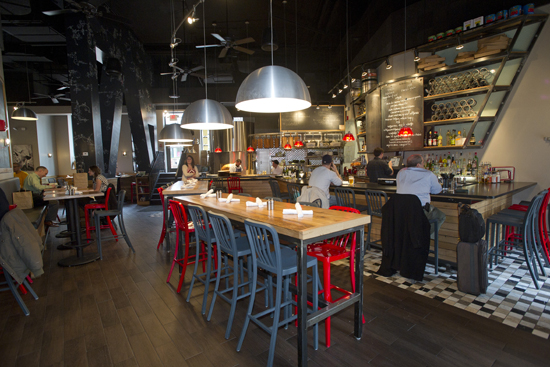 We ordered the Salami Toscana ($5), dry-cured pork and garlic sausage, and two cheeses: the Reading Raclette ($7), a semisoft cow cheese from Reading, Vt., and the Manchego ($6), a firm sheep cheese. Approving of the combination, our friendly and patient waitress put in our order, and arrived shortly with our selections on a wooden cutting board. Thinly sliced, the Salami Toscana had a fairly mild taste, but the garlic flavor kicked it up a notch. A dollop of Dijon mustard was the perfect spicy accompaniment to the salami.
We love cheese and couldn't wait to try the two we had chosen. The Reading Raclette, with its rich, creamy texture and subtle buttery flavor, was a hit. Crostini bread came with it, and we could have continued to eat the combo to the exclusion of the other items. At the other end of the spectrum was the Manchego. It was firm, slightly crumbly because of the tiny air pockets, and had a distinct, pungent taste. It partnered well with the salami, along with the bread-and-butter pickles on the board.
Satisfied but not quite full, we ordered something that had caught our eye earlier: fig pizza ($12) (below). Topped with red wine fig jam, thinly sliced green apples, goat cheese, truffle oil, and spinach leaves, it was unlike any pizza we'd had before. And we actually felt healthy eating it. There was no grease, just a unique combination of flavors that complemented each other extremely well. The tart jam, the sour apples, and the slight piquancy of the cheese made each bite a delicious treat.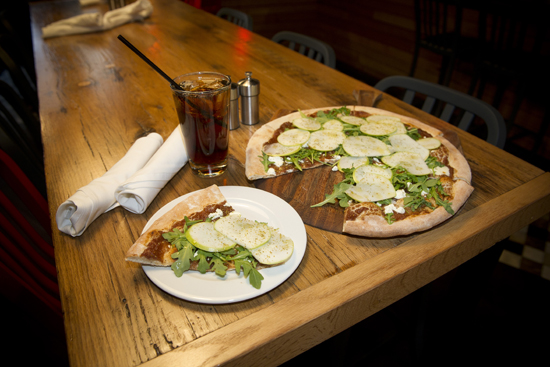 "Who even thought of putting all of these things on a pizza?" a friend asked. "They taste perfect together!"
All of the Salty Pig's pizzas are made in a wood oven visible from anywhere in the dining room.
Although not completely packed when we arrived at noon on a recent weekday, the restaurant did become crowded as customers began shuffling in. At night, especially on weekends, the restaurant attracts a bigger crowd. Not to worry if you have to wait for a table. Just take a seat at the bar and check out the extensive list of draft craft beers and wines by the glass.
Stomachs full, we were surprised to see what came with the check: a leather-bound guest book for diners to sign, with comments from customers about how much they enjoyed their meal and their plans to return soon. "Oink oink, baby! Delicious!" was perhaps the best description of dining at the Salty Pig.
We couldn't have said it better ourselves.
The Salty Pig, 130 Dartmouth St., Boston, 617-536-6200, is open daily from 11 a.m. to 1 a.m. and accepts all major credit cards. Take the MBTA Green Line to Copley and turn right onto Dartmouth St.
This is part of a weekly series featuring Boston lunch spots of interest to the BU community. If you have any suggestions for places we should feature, leave them in the comments section below.
Tom Vellner can be reached at tvellner@bu.edu.
This Series
Also in
April 18, 2018

April 11, 2018

March 29, 2018