Lunch, Anyone? RiZe
P.S. It's great for breakfast, too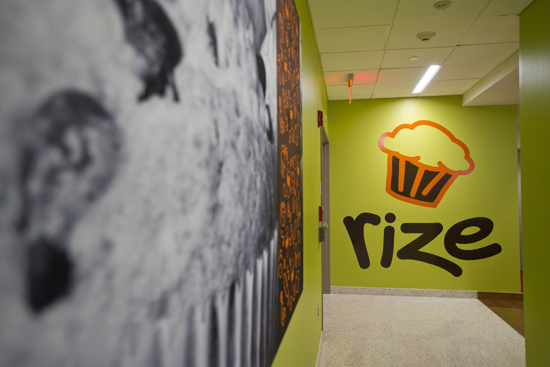 RiZe, the café and bakery at the new Center for Student Services may be one of the best-kept secrets on campus. This full-service café on the lower level of Marciano Commons serves three squares a day, Monday through Friday. The bakery is next door to Late Night, the midnight eatery. With seating for about two dozen, RiZe's open floor plan offers patrons a great view into the bakery.
We arrived during a recent lunch hour expecting fare similar to what's available at so many other places around campus: simple ingredients, unoriginal recipes, and run-of-the-mill sandwiches. Happily, our expectations proved wrong.
RiZe's sandwiches have inspired ingredients on an assortment of fresh breads baked daily on site. We sampled a number of the café's delicious sandwiches, including the Kenmore RiZer ($6.95)—smoked gouda, roasted mushrooms, caramelized onions, and Swiss chard—and its most popular, the Kenmore Squared ($6.95)—grilled chicken, roast tomato pico, Monterey jack, and cilantro on jalapeño focaccia, with chipotle and avocado cream. Fast-food sandwich shops like Subway cannot hold a candle to the imaginative fare at RiZe.
Another hit was the Landmark ($6.95). Featuring sliced lamb, onion chutney, and a spicy tomato jam, its blend of flavors made converts out of those in our party who had never tasted lamb. RiZe's menu would appeal to the most daring of foodies, without the shock-inducing price of comparable gourmet sandwich places.
Portions are generous and come with the option of hand-sliced potato chips or a side salad, all for under $7. And for vegetarians or those looking for a lighter option, RiZe offers a variety of gourmet salads—we suggest the Boston Salad ($6.95)—arugula, fire-roasted local apples and butternut squash, peppered goat cheese, cranberry vinaigrette, and spiced pecans. The Mediterranean Salad ($6.95) is another popular item: iceberg lettuce, falafel, roasted peppers, cucumbers, and feta cheese served with a lemon tahini dressing.
We couldn't leave without sampling a couple of RiZe's deservedly popular desserts. The pumpkin coconut tart ($3.55) was as delectable as it sounds, a delicious spin on traditional pumpkin pie. The rich cranberry fudge brownie ($2.45) was both sweet and tart.
And that's just lunch.
Breakfast at RiZe is basic, but good, and the items attest to the skill of the bakers—the texture of the muffins, croissants, and scones is just right. The café has a wide selection of morning pastries, which changes weekly. Candied walnuts provide a wonderful twist to a classic cranberry nut muffin ($2), and combined with one of RiZe's coffee drinks, is a quick and easy breakfast to grab enroute to class. All of the coffee is locally roasted and ground daily. RiZe also does justice to the classic bacon, egg, and cheese sandwich—no frills or additions, just quality ingredients. For $4.25 you can't do much better.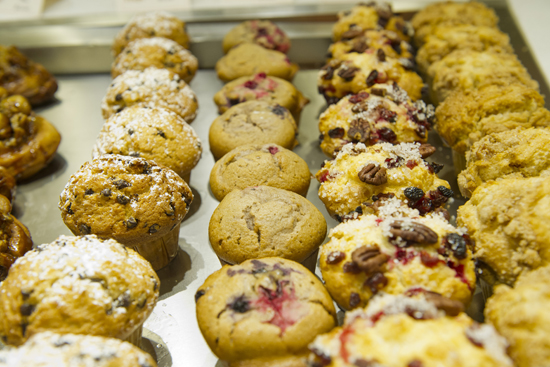 Whether you're in the mood for an inexpensive gourmet treat or just coffee and a chat with friends, RiZe offers an intimate, relaxing atmosphere. The friendly and helpful staff know the menu backwards and forwards, so don't be afraid to ask for guidance when deciding what to order.
And don't let the café's basement location fool you. RiZe is destined to become one of the most sought-out dining options on campus.
RiZe is in the basement of Marciano Commons, at the Center for Student Services, 100 Bay State Rd. Hours: Monday to Friday, 7 a.m. to 5 p.m. All major credit cards are accepted as well as convenience points and dining points. Phone: 617-358-6975.
This is part of a series featuring Boston lunch spots of interest to the BU community. If you have any suggestions for places we should feature, leave them in the comments section below. Check out our list of lunchtime tips on Foursquare.
Ashleigh Fryer can be reached at afryer@bu.edu.
This Series
Also in
April 18, 2018

April 11, 2018

March 29, 2018