Lunch, Anyone? Picco
Pizza and ice cream done right
Pizza and ice cream are staples of almost every college student's diet. Happily, at the trendy Italian bistro Picco in the South End, this classic combo gets the gourmet treatment, but in a way that's easy on the wallet.
Located on a section of Tremont Street nicknamed "restaurant row," Picco blends in with the other businesses tucked in on the ground floor of the luxurious Atelier 505 building—each is topped with a bright blue awning—but the restaurant's eye-catching outdoor seating makes it impossible to miss. But for the chilly breeze on the recent afternoon we stopped by for lunch, we would have eaten at one of the nine outside tables, made for people watching.
Instead, we entered the charming restaurant, with jazz wafting in the air, and were seated at a high-top table by the large front window. The atmosphere in Picco offers a well-balanced mix of stylish décor and lively conversation. Pops of color make a bold statement—chocolate brown and mustard yellow walls, bright cherry red chairs—and the exposed ceiling reveals large pipes, giving the restaurant a modern feel. Dangling lights are suspended above the 50 or so diners the restaurant accommodates (additional seating is available in the bar), and chalkboards list the ice cream flavors and daily drafts. Picco also offers an extensive wine and beer list.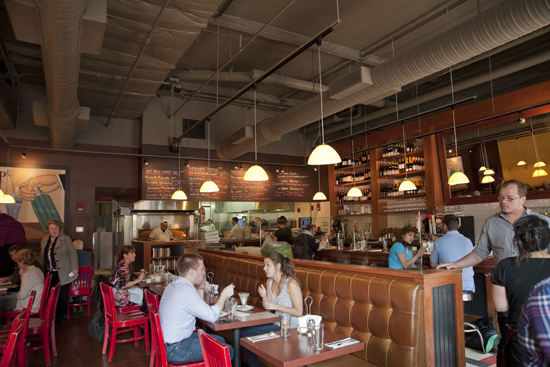 Aware of the restaurant's reputation for superb pizza, we knew we'd have to try one. But before figuring out which pies to order, we decided to start with the goat cheese bruschetta ($6) (below), an appetizer that sounded too good to resist. The combination of creamy goat cheese, roasted red peppers, white beans, and green goddess dressing served on two pieces of buttery, crusty bread was scrumptious. The savory red peppers complemented the subtle flavor of the white beans, while the homemade dressing of sour cream, mayonnaise, chives, chervil, anchovy, tarragon, lemon juice, and pepper added a tasty and tangy finish.
Our mouths watered as we watched chefs in Picco's open kitchen pull pies in and out of the fired oven. The restaurant was full at 1 p.m., so we had a slight wait for our pizzas. We ordered two small: the Neapolitan ($11.50) and the roasted red pepper, goat cheese, and arugula salad ($13.75). Together, they were more than enough to feed our group of three. The first, topped with chopped tomatoes, mozzarella, and basil, had a traditional Italian taste that was rich and satisfying. Although the second pizza was obscured under a heap of arugula, one could still detect the sweet chopped tomatoes and creamy goat cheese. But it was the crusts—slightly charred, airy but crispy—that really set these pizzas apart.
We decided to try a half order of the Bolognese, mushroom, and ricotta ravioli ($7.50). Served in a red wine sauce, the dish was tart, but not overpowering, the ingredients blending well, the mushroom being the star component. The only flaw was the pasta itself, which was nearly paper-thin and proved difficult to stab with our forks. Patrons can choose from an array of other lunch items, such as Caesar salad ($8), chicken Parmesan sandwich ($10), and macaroni and cheese, made with baked penne, cheddar, Gruyère, provolone, Gorgonzola, and taleggio ($10).
"My mother and I always come here before going to the theater, and we can never get past the fish tacos," one patron confessed to us. "We must have come here about 20 times now, and they're always so good."
Unfortunately, we were too stuffed at this point to heed her fish taco ($14) recommendation and had to save what little room we had to try Picco's homemade ice cream (made on the premises). The dessert menu is packed with sweet treats, including frappes ($5.50), sundaes ($5 for small, $6.50 for large), an "adult" ice cream soda, made with raspberry Belgian lambic poured over vanilla ice cream ($11), and warm toasted gingerbread topped with raspberry sauce and a choice of ice cream or sorbet ($7).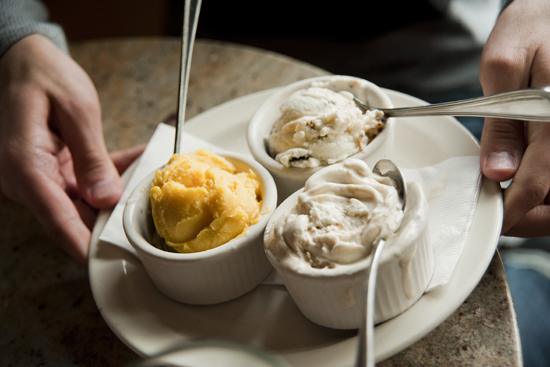 Unable to decide on just one flavor, we chose the sampler ($6) (above), which allowed us to pick three: we selected an unlikely combination—peanut butter chip, butterscotch swirl, and mango pineapple sorbet. After a couple of mouthfuls, all we could say was, "Move over, Ben and Jerry." Picco's ice cream is downright delectable, without any artificial flavoring. The peanut butter chip and butterscotch swirl were sweet, but not too rich, with a smooth texture. The mango pineapple sorbet blended both fruits perfectly and proved not only a refreshing finish to our meal, but that Picco's frozen desserts are as good as any you'll find in town.
Picco is at 513 Tremont St., Boston. It is open Sunday to Wednesday, from 11 a.m. to 10 p.m., and Thursday to Saturday, from 11 a.m. to 11 p.m. The restaurant delivers every night from 5 to 10 p.m. on orders of at least $10 ($2 delivery fee). All major credit cards are accepted. By public transportation, take the MBTA Green Line B trolley to Arlington and walk to Tremont Street.
This is part of a weekly series featuring Boston lunch spots of interest to the BU community. If you have any suggestions for places we should feature, leave them in the comments section below. Check out our list of lunchtime tips on Foursquare.
Tom Vellner can be reached at tvellner@bu.edu.

This Series
Also in
April 18, 2018

April 11, 2018

March 29, 2018