Lunch, Anyone? Mr. Bartley's Gourmet Burgers
Cambridge landmark: nostalgia, college humor, and, yes, burgers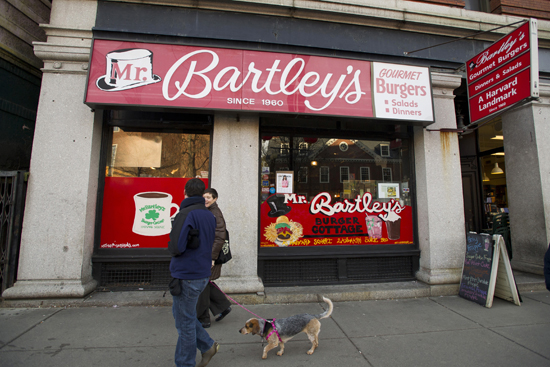 If they bestowed a Nobel Prize in burger-ology, Mr. Bartley's Gourmet Burgers would be right up there in the running. This bustling establishment near Harvard Yard has been a Cambridge institution since 1960, when Joe and Joan Bartley converted it from a small convenience store. These days, it's their grandchildren serving Bartley's continuously updated menu of gourmet burgers, inventive frappes, and more, with selections ripped from the headlines—feast on the Mitt Romney, topped with Swiss cheese and grilled onions ($11.70), the "hot and spicy" Michelle Obama, topped with Cajun seasoning and blue cheese ($10.15), or the Tom Brady, with cheddar, guacamole, lettuce, tomato, and red onions ($10.65). There's even a Drew Faust (Harvard's current and first woman president), a veggie burger with red peppers, feta, tomato, red onion, and garlic mayo ($10.15).
A habitual "Best of Boston" winner, Bartley's praises have been sung by scribes domestic and international, and the Mass Ave landmark was featured prominently in the Academy Award–winning David Fincher film The Social Network. There are plump, seven-ounce burgers, including turkey and veggie burgers, for every taste. Customer favorites, according to Joe and Joan's granddaughter Katie Bartley, who waited on us, include the Viagra, guaranteed to arouse the tastebuds with its blue cheese dressing, bacon, lettuce, and tomato ($10.15), and the Jersey Shore ($13.10, the priciest offering), topped with bacon, cheese, grilled mushrooms, and onions, with onion rings. Katie Bartley doesn't think nonfans will avoid the Lady Gaga, with provolone, grilled peppers, and sweet potato fries ($11.70), or luddites will shy away from the iPhone, boursin cheese, grilled mushrooms, and onions, and sweet potato fries ($11.70). But she admits she does hear a lot of giggling along with Viagra orders.
Come hungry and come early. When we arrived at 11:45 a.m. on a recent weekday, the place was already filling up. You are likely to encounter, as we did, burger matriarch Joan Bartley at the door with menus and a warm greeting. Since Bartley's is all about the food, be prepared to sit slightly more than a pickle's distance from your neighbors, who are likely to ogle your menu selections. The only background music is the buzz of conversation, the hum of contented chewing, and orders being called out with a vigor befitting a livestock auction.
According to the Bartleys, the eatery's décor is "like a dorm room." Over time, the walls and wainscoting have evolved into a museum of student passions past and present, with an American League baseball scoreboard, a sign touting "Reserved Parking for Red Sox Fans Only," a bumper sticker declaring, "I'm not anti-Bush, I'm pro-intelligence," beer posters, and the warning, "Unattended children will be given a free puppy and a large espresso."
The place serves no alcohol and is cash only, or as the menu puts it, "Real Food, Real Money." And patrons beware: there are no restrooms for customers. Bartley's is reminiscent of a Coney Island burger joint, where people blithely partake of things fatty and creamy, waistline vigilantes be damned.
Bartley's burgers range from $10.15 to $13.10, and they all come with either French fries, sweet potato fries, or "famous" onion rings. It was tough to choose, but we decided on the People's Republic of Cambridge, a beef patty served with cole slaw and Russian dressing ($10.15), and the Mayor Mumbles Menino, a burger with a lunch/breakfast identity crisis, capped with a fried egg, bacon, and cheese ($11.40). Both came with French fries, but we coughed up an additional $1.59 to replace one of those sides with Bartley's renowned sweet potato fries. The burgers were plump and dense, juicy inside and faintly crusty outside. Both were as unwieldy as they were delectable; best not to spoil your Bartley's experience by wearing anything requiring dry cleaning.
With in for a penny, in for a pound as our guiding principle, we decided to wash down our burgers and fries with a raspberry lime rickey ($2.99) and a vanilla Brooklyn egg cream ($2.99), which also comes in coffee or chocolate. If the choice of an egg cream didn't date us, we showed our age by selecting grapenut custard (ask your grandmother) with whipped cream for dessert ($2.99). Other Bartley's classic diner blasts from the past include rice pudding with whipped cream ($2.99), maple bread pudding with whipped cream ($2.99), malted frappes ($5.75), and orange creamsicle frappe ($5). If we had nothing but time, cash, and a wardrobe of muumuus, we might have stuck around to try something called a cherry bomb ($6.25), concocted with vanilla ice cream, chocolate chip cookies, and cherries, or a banana split frappe ($6.25), a shameless marriage of vanilla ice cream, chocolate, strawberries, bananas, and walnuts, blended and topped with whipped cream.
With loosened belts and contented smiles, we bid Katie Bartley farewell. We skipped dinner that night.
Mr. Bartley's Gourmet Burgers, 1246 Massachusetts Ave., Cambridge, 617-0354-6559, is open Monday through Saturday from 11 a.m. until 9 p.m. By public transportation, take the MBTA Green Line B trolley inbound and change at Park Street for the Red Line to Harvard Square.
This is part of a weekly series featuring Boston lunch spots of interest to the BU community. If you have any suggestions for places we should feature, leave them in the comments section below. Check out our list of lunchtime tips on Foursquare.
This Series
Also in
April 18, 2018

April 11, 2018

March 29, 2018