Lunch, Anyone? Ecco Pizzeria
Organic, artisanal pizzas, salads, and ice cream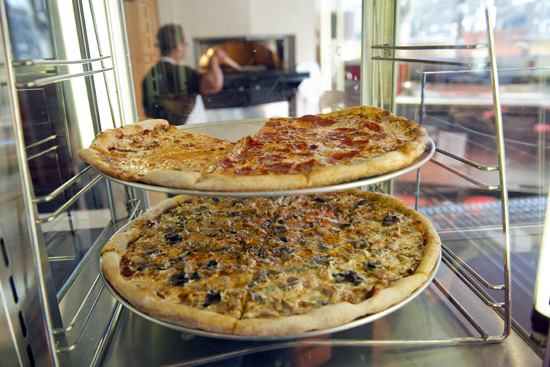 A quick glance at Ecco Pizzeria's menu board lets you know this is no standard-issue pizza joint.
Ecco prides itself on using the freshest natural ingredients. The pizza dough is made from organic flour, wheat germ, and flax seed, the sauce from organic tomatoes and fresh herbs. The salads feature organic greens. Even the coffee and ice cream (more about that in a bit) are organic. To say that you can taste the difference is an understatement.
On a recent visit, we began with the caprese salad (small, $7; large, $11). With artisan mozzarella, fresh basil, sea salt, and just the right amount of extra-virgin olive oil, the salad tasted of summer, no small feat in the dead of winter. Ecco offers a number of other salads, notably the Pera (small, $7; large, $10): organic arugula, sliced pears, walnuts, gorgonzola cheese, and a citrus vinaigrette.
With our first course over, we proceeded to the star attraction—the pizza. Actually, four pizzas. First up was the salsiccia (medium, $16; large, $23). Crumbled Italian sausage and sautéed mushrooms made the pie a savory delight. The meat was tangy and just the right consistency.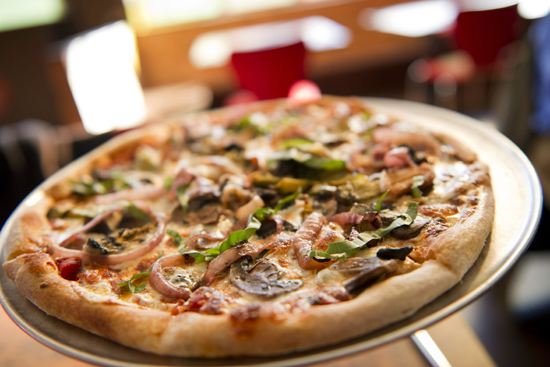 Next up was the Verdure (medium, $16; large, $23), which had grilled baby artichokes, sautéed fresh mushrooms, and caramelized red onions. It was a revelation. The artichokes were fresh, with a lemony bite to them. The onion was a perfect counterpoint, its sweetness balancing the artichoke and mushrooms. This was a pizza any vegetarian would love.
We ordered a classic pepperoni pizza as well—good, but not remarkable. It did, however, have lots of meat and was far less greasy than the pepperoni pizzas you find most other places.
Last, we sampled the Bianca (medium, $13.50; large, $18). The only ingredients on the crispy crust were prosciutto, arugula, extra-virgin olive oil, and asiago cheese. This was the hands-down favorite. The combination of smoky prosciutto and fresh, crunchy arugula was inspired and a reminder that pizza doesn't need tomato sauce to be exceptional.
Ecco also offers pies with shrimp, scallops, clams, barbecue, and grilled chicken, and patrons are encouraged to create their own pizzas. Toppings are $1.50 to $3.50, depending on the pie size. You can also order slices of pizza (formaggio, $2.75; pepperoni, $3; the day's specialty pie, $3.50).
You won't find Coke, Pepsi, or Sprite here. Instead, Ecco offers a number of all-natural juices, teas, and sodas. We recommend Blue Sky's black cherry soda ($1.75) and Fizzy Lizzy's raspberry lemon juice ($1.75).
We decided to pass on the dessert pizzas, offered with a choice of several toppings, among them strawberry preserves, cinnamon, sugar and butter, and chocolate hazelnut spread with melted dark chocolate chips (slice, $3). We did, however, indulge in the organic ice cream and sorbetto, made in Boulder, Colo. We sampled the espresso chocolate chip—rich, dark and flavorful—mint chocolate chip, also good, and mango sorbetto—cloyingly sweet.
And it's not just the menu that separates Ecco from most Boston-based pizzerias. The eatery prides itself on its approach to the environment and has taken pains to create near-zero waste. Utensils are made from corn and renewable plants and are recycled, as is all glass, plastic, aluminum, and cardboard. The restaurant uses energy-efficient electricity and LED lighting, and 90 percent of the kitchen equipment is reclaimed/reused. To encourage patrons to reduce their carbon footprint, Ecco has placed bike racks in front of the building, and bikes are used for nearby deliveries.
Ecco Pizzeria, 1147 Commonwealth Ave., Allston (across from Herb Chambers BMW), is open Sunday to Tuesday, 11 a.m. to 11 p.m., Wednesday, 11 a.m. to midnight, Thursday to Saturday, 11 a.m. to 2 a.m.; 617-903-4324. Free delivery Thursday to Sunday, 6 to 11 p.m.; all major credit cards accepted. By public transportation, take the MBTA Green Line B trolley to Packard's Corner or Harvard Avenue or the #57 bus to the corner of Brighton Avenue and Linden Street.
This is part of a weekly series featuring Boston lunch spots of interest to the BU community. If you have any suggestions for places we should feature, leave them in the comments section below. Check out our list of lunchtime tips on Foursquare.
This Series
Also in
April 18, 2018

April 11, 2018

March 29, 2018