Lunch, Anyone? Darwin's Ltd.
Eatery's sandwiches "speak for themselves"
Stroll out of the Harvard Square T station and down Mt. Auburn Street, and tucked between cozy cottages, you'll discover Darwin's Ltd., a funky sandwich shop and café that's worth the walk.
Opened in 1993 by Cambridge couple Steve and Isabel Darwin, Darwin's Ltd. describes itself as a "purveyor of sumptuous comestibles and caffeinated provisions." The shop lives up to its boast, priding itself on using the freshest ingredients both for prepared foods and for its famous gourmet, organic, fair-trade coffees. And if you're wondering: yes, the owner is a descendant of the Charles Darwin.
The décor is eclectic. Red tin tiles cover the ceiling, a psychedelic design is the background for the extensive sandwich menu, and a hip young staff jokes with customers from behind the counter. Darwin's also stocks a variety of natural and organic snacks and wines (as well as coffee) that would fit right in at the local Whole Foods. The restaurant has take-home dinners, too.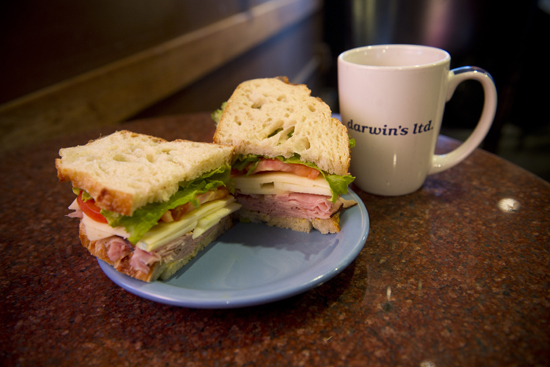 But it's the lunches we're here to talk about. We arrived at the height of noon rush on a recent Saturday. The regular menu offers an array of fresh sandwiches (there are daily specials as well), many named for local places. Among them: the Fayerweather ($7.95), turkey breast and Swiss cheese, with sundried tomato-pesto mayonnaise, lettuce, and tomato, and the Hubbard Park ($7.55), hummus, avocado, apple, carrots, tomato spouts, and honey mustard. We decided to divide and conquer: we ordered two sandwiches and each had a half. We started with one of Darwin's more popular offerings, the Longfellow ($.7.95) (above)—and one bite tells you why. The restaurant transforms a typical ham sandwich with crisp green apple slices, aged cheddar cheese, lettuce, tomato, and Dijon mustard. Diners can choose from several fresh-baked breads: baguette, whole wheat, bulkie roll, rye, pumpernickel, French sourdough, ciabatta, and 7-grain. The subtle cinnamon raisin flavor of the 7-grain we chose made it even tastier. This sandwich lives up to the restaurant's motto: "Our legendary sandwiches speak for themselves."
Unable to resist any sandwich with avocado, our second choice was the Mount Auburn ($8.30), smoked turkey, avocado, mayo, lettuce, tomato, and vinaigrette on sourdough bread. The avocado paired well with the other ingredients, but we both wished we had the other half of the Longfellow.
The restaurant also serves an array of soups, which change daily, and fresh salads.
Opposite the sandwich bar is Darwin's café, opened in 2002, a larger area where customers can relax and eat their sandwiches or sip cappuccino. We ordered iced coffees ($1.92), and as dedicated coffee addicts, were more than impressed with Darwin's signature coffee blend, a dark roast called the No. 5 (also offered are an organic, fair-trade Peruvian Viennese-style coffee and a decaf). We indulged in a velvety chocolate macaroon ($1.65), one of a tempting selection of baked goods.
Fully satisfied with our meal, we decided that Darwin's only problem might be its popularity. The shop was so packed when we got there that we couldn't find a seat. We also had a rather cramped wait in line to place our orders at the sandwich counter.
But as the endless stream of customers confirms, when you're craving a hearty sandwich or a rich cup of coffee, Darwin's is the natural selection.
Darwin's, 148 Mt. Auburn St., Cambridge, 617-354-5233, is open Monday to Saturday, 6:30 a.m. to 9 p.m., and Sunday, 7 a.m. to 9 p.m. Darwin's has a second location, at 1129 Cambridge St., Cambridge; both take Visa and MasterCard, but do not accept American Express. By public transportation, take the Red Line to Harvard Square and walk east down Mt. Auburn Street.
This is part of a weekly series featuring Boston lunch spots of interest to the BU community. If you have any suggestions for places we should feature, leave them in the comments section below. Check out our list of lunchtime tips on Foursquare.
Samantha DuBois can be reached at duboissd@bu.edu.
This Series
Also in
April 18, 2018

April 11, 2018

March 29, 2018