How to Get to the Corner Office
Career advice from New York Times columnist Adam Bryant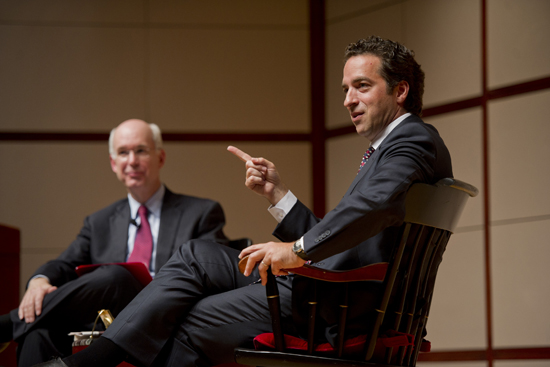 Speaking to an audience packed with students aspiring to business leadership, Adam Bryant shared a few things that a smart CEO does not do. The smart CEO does not, for example, ask an interviewee the question that leads to the canned answer, "My greatest weakness is that I work too hard and care too much."
Instead, the CEO of online shoe company Zappos, for instance, asks job candidates to tell him how weird they are on a scale of one to 10, with examples to back up their score. Everyone falls prey to a little bit of weirdness, and the question gets across to the candidate the importance Zappos places on workplace culture.
"For the CEO, that question is really about seeing how the candidate reacts to the question and it forces them to get out of their element," said Bryant, the New York Times senior editor for features, who is probably best known for his popular column "The Corner Office" in the Sunday business section, and his 2011 book of the same name. "Good CEOs want to know what the real person is like and don't want that canned stuff."
Bryant spoke last Thursday at the School of Management about the
patterns, themes, and lessons shared with him by CEOs of companies like Foursquare, Hill Holiday, Panera Bread, and Pfizer.
The event, part of the SMG's Dean's Speaker Series and cosponsored by the Leadership & Organizational Transformation Concentration, the Graduate Student Council, and the Undergraduate Student Council, drew a crowd of 200. Kenneth Freeman, SMG's Allen Questrom Professor and Dean, moderated the hour and a half discussion, and invited students to pose questions.
Bryant reassured those students not yet committed to a career choice that when he was 21, he lived in fear that someone would ask what his plans were after college, because he had no idea.
"I worked for the college newspaper," he said. "The pilot light turned into a flame, and I knew I wanted to be a journalist. I went into business journalism because I like to follow the money."
Since then, Bryant has been a business reporter, deputy business editor, and deputy national editor at the Times and worked as senior writer and business editor at Newsweek. He was the lead editor of a 2010 series on the dangers of distracted driving that won a Pulitzer Prize for National Reporting. He started "The Corner Office" in 2009.
The widely read column is a conversation with CEOs about how they lead. Bryant asks such open-ended questions as, "How do you hire and what questions do you ask?" "What type of culture are you trying to foster at your company?" and "What are the biggest leadership lessons you've learned?"
After two years and more than 175 interviews, he noted patterns of successful leadership, and last year put them together in a book. Bryant shared with the SMG students the five qualities that he saw consistently in forward-thinking CEOs.
The first, he said, is passionate curiosity—an inquisitive mind. The second is the willingness to admit what you don't know. The third is a simple mindset, the ability to take a complicated situation and boil it down to manageable tasks. Fourth, team smarts, the office equivalent to street smarts. And finally, fearlessness, which shouldn't be confused with recklessness.
The CEOs with these qualities "look around to see what to improve in their company," he said.
An entertaining speaker, Bryant shared a few surprising anecdotes. One CEO, he said, has her new employees compete in a hula-hoop contest to break the ice. Another reads palms.
The top tip, the one Bryant stressed, was the importance of self-awareness and self-improvement. "You need to be honest with yourself," he said. "Don't let anyone tell you something about you that you didn't already know."
One of his last pieces of advice may have influenced some in the audience who were slyly using their smartphones under their chair: email less, talk more.
"Email does literally nothing to build connective tissue between people," Bryant said. "There is infinite room for misreading email, maybe because of the tone or the urgency. It's better to pick up the phone or just go talk to the person. Today, they are both the equivalent of a handwritten note."