BU's First Green Roof
Great view, good eco-karma at Center for Student Services
The view from the third, fourth, fifth, and sixth floor windows of the new Center for Student Services is spectacular, offering a panorama of the brownstones along Bay State Road and glimpses of the Charles River glinting in the background. And it's about to get even better.
The University recently installed its first green roof, which sits atop the area known as the Ellipse and an adjacent rectangular section on the second floor. Spanning nearly 6,000 square feet, the roof will eventually become a lush, multicolor bed of vegetation that will also decrease the building's carbon footprint.
"Green roof options are the wave of the future," predicts Walt Meissner (CFA'81), BU's associate vice president of operations. "I'm sure we're going to always look at those options whenever it makes sense to do so."
Installation, which took several weeks, occurred during the building's final phase of construction this summer and was orchestrated by architects Bruner/Cott & Associates, landscape architects Richard Burck Associates, Bond Brothers contractors, green roof designers Roofmeadow, and installers Xquisite Landscaping.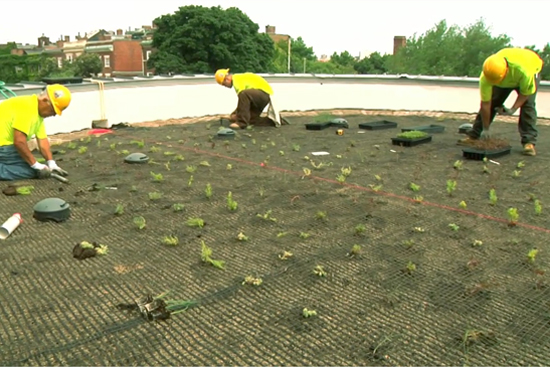 Most BU buildings currently have black roofs, which absorb the sun's rays and radiate them back into the environment, increasing the overall temperature in the area by as much as 20 degrees, according to Dennis Carlberg, BU's sustainability director. But the University is gradually moving toward more eco-friendly options. He says that 16 percent of the University's roofs are now covered in white membranes, which reflect heat and reduce the amount of energy required to cool the building.
Choosing to install a green roof at 100 Bay State Road was an easy decision, despite being a more expensive option. "For one, it has long-term benefits to our sustainability strategy at BU and improving the efficiencies of our buildings," Meissner says. "And two, it's the right thing to do." The feature also increases the likelihood that the building will receive Leadership in Energy and Environmental Design (LEED) certification, which the University has applied for.
Green roofs are not only more pleasant to the eye, Carlberg says, they're also sustainable. They reduce the heat island effect created by black roofs, improve roof insulation—leading to lower heating and cooling bills—and increase rainwater retention, reducing runoff that can overwhelm sewer systems. In fact, green roofs absorb up to 60 percent, or 90,000 gallons, of rainfall each year. "We'll have a higher quality and a lower quantity of water leaving the site," Carlberg says.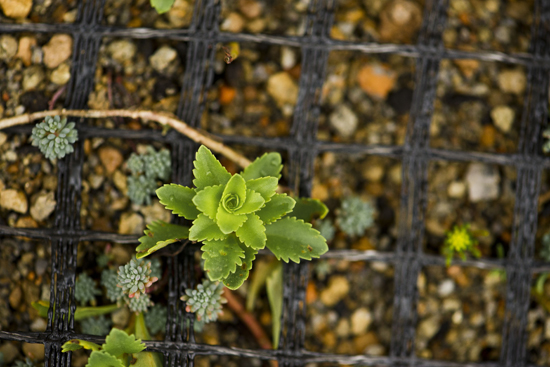 BU's green roof is layered like an eco-friendly lasagna. A protective white membrane covers the concrete roof. Over that is placed a leakage detection system, then a drainage system, another layer of fabric, and four inches of soil planted with 10 varieties of sedum, a native drought-resistant plant. A mesh-like wind blanket prevents erosion, and surrounding concrete pavers help anchor the blanket. A vine called fiveleaf akebia borders the western side of the roof and is planted in a bed of blue fescue.
The roof will require occasional watering and weeding the first year, Carlberg says, but should be self-sustaining after that.
Despite their merits, green roofs aren't a practical solution for every building: the weight of the soil and retained water can overburden some existing roofs. "You really have to be careful to make sure that your structure supports all that extra weight," Carlberg says. "You have to look at what the benefits are, weigh that against the cost, and see what makes sense."