BU Abroad: Hands-on in Dublin
A student's journey from patient to physical therapist
Coming out of high school, Matthew Whitney thought about studying finance and trying to play hockey at the collegiate level. A shoulder injury put that plan to bed.
The physical therapy that followed, he says, "really changed my mind about what I wanted to do with my life."
As Whitney (SAR'12) was treated in various clinics, his eyes were opened to a new career possibility. "I saw what my physical therapists could do," he says. "They could really help people like me get back to their normal lives. I decided that's what I wanted to do."
Now a senior, Whitney spent last fall in BU's Dublin Internship Program, where students study in the classroom half the semester and have internship placements and one class the second half. The Dublin program, which last fall enrolled 48 students, places students in a variety of organizations, from NGOs to music magazines to financial services. His fellow students worked for hotels, film companies, hospitals, and a wireless access company.
"Because my internship built off the classes that we take here, it's a great learning tool," Whitney says. "My classes were about Irish society and the health care field, so I got to see both of those in action at the internship."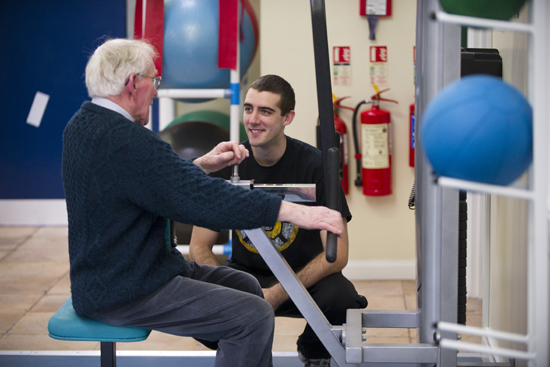 Whitney's internship was in physical therapy with the Irish Wheelchair Association (IWA), which placed him at a gym, where he worked directly with patients—a rare opportunity for an undergrad.
"The best part about the IWA is the wide variety of people you see on a day-to-day basis," he says. "Any given day, you'll treat elderly people suffering from degenerative conditions, people recovering from strokes, or people with multiple sclerosis. You'll also treat an able-bodied athlete in a situation that was similar to mine."
For Whitney, the Dublin experience wasn't all about work: there were new friends, lively pubs, and the unrivaled conviviality of the locals. All of which, he says, can make it very hard to leave.
"I thought at the end of my time here that I'd be itching to get back to Boston," he says. "But I'm not ready to go back. There's so much to experience. I wish I could stay a little bit longer."
Videography by Phil Zekos.
Read more about BU Abroad here.
This Series
Also in
March 20, 2017

July 14, 2016

September 10, 2015