Lack Professorship Fueled by $2.5 Million Gift
Will research ways to keep serious journalism alive and well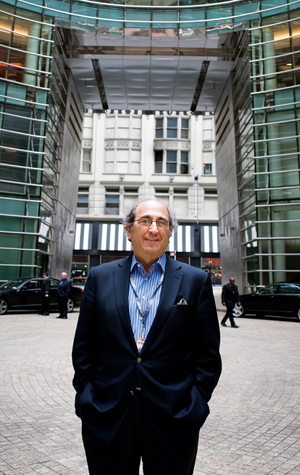 Of the many unknowns clouding the future of journalism, none is more crucial than where the money will come from. Now, with the help of a $1.66 million gift from Bloomberg Media Group CEO Andy Lack (CFA'68) and an $833,333 matching gift from the Leventhal family, the College of Communication is putting $2.5 million behind a professorship whose goal is to find an answer, or perhaps more than one answer. The Leventhal contribution is part of a larger challenge-grant program established by trustee Alan Leventhal (Hon.'09) and his wife, Sherry, which has helped support the creation of 10 professorships, 20 scholarships, and 4 fellowships at 10 schools across the University.
The Andrew R. Lack Professorship, says Thomas Fiedler, dean of COM, is intended to provide the resources and scholarship to analyze new business models that may support serious journalism in the years ahead.
"It comes from Andy's concern that accountability journalism—the kind of journalism that the First Amendment's free-press clause is intended to protect—is endangered by the collapse of the old business models that supported newspapers and TV news until the internet era," says Fiedler (COM'71). "The Lack Professor will oversee research and develop courses that may envision and incubate these new business models."
That endeavor, coincidentally, is similar to what Lack does every day at Bloomberg. Among his many charges at the media giant is to guarantee that the company's vast news operations, now supported by a corollary business that leases software tools to Wall Street traders, pay their own way.
"There are many different mediums, new platforms, and new technologies that are having an impact on how we report and create a narrative that people can read or see or hear," says Lack, who like Leventhal is a University trustee. "How do you use your Twitter news feed? How to use YouTube? How do you use the essentials that arguably go into every story—observation, research, going to the scene yourself? And then, how do you use all of the journalist's tools to distribute the work more effectively. And what is, ultimately, the business model around that? How we navigate these various issues, and the impact that they're having on the work we do, is what I hope the Lack Professor will engage our students in."
Fiedler says he expects the program to dovetail nicely with another new area of study overseen by the nascent Feld Professorship in Emerging Media. That position is held by James Katz, who has just joined COM as director of the Division of Emerging Media. He came from Rutgers University, where he was chair of the department of communication.
The Lack gift adds to the $420 million raised so far by the Campaign for Boston University, a $1 billion comprehensive fundraising campaign whose kickoff celebration brought several thousand alumni and guests to Agganis Arena on September 22.