Terrier Basketball Squads Ready to Rumble
Men and women start season with doubleheader tomorrow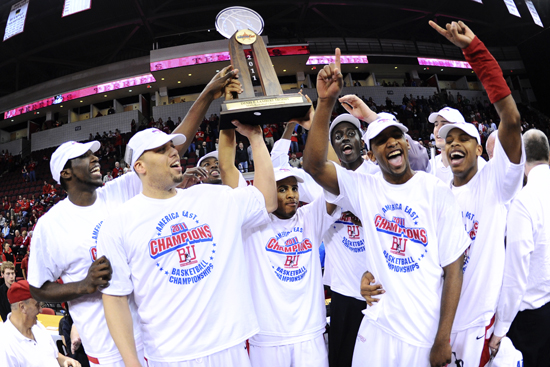 Setting their sights on an America East championship, both the men's and women's basketball Terriers start their season in a doubleheader tomorrow night at Case Gym. Each squad begins with high expectations after strong performances last year.
"We know we're going to get every team's best shot," says men's captain Matt Griffin (SMG'12), "so we just have to be ready and accept the challenge."
The men's team is coming off a season that saw them reach the NCAA tournament and play a competitive game against top-seeded Kansas. The Terriers went 21-14 for the regular season, defeating Stony Brook in a tense AE March title game squeaker, 56-54. This season, the Terriers are ranked first in America East in the preseason coach's poll.
"I think we're definitely going to be playing this year with a target on our back," Griffin says, "but I think we've also played with a target on our back before, because for the past couple of years we've been put in that same situation."
The biggest challenge for the men's team may be replacing John Holland (CGS'09, COM'11). Holland, named America East Player of the Year last spring, is BU's all-time leader in games played, is tied for the lead in career steals, and is the second highest scorer in program history. The Terriers hope that D. J. Irving (CGS'12) and Dom Morris (CGS'12, SMG'14), both named to the AE all-rookie team last season, will help to fill his shoes.
The Terrier men must also adjust to life under a new head coach. Joe Jones, who spent the past three seasons as associate head coach at Boston College, replaced former BU head coach Pat Chambers after Chambers accepted an offer in June to head Penn State's program. Prior to arriving at BC, Jones served under head coach Jay Wright at Villanova before becoming head coach at Columbia.
"I don't tell too many people I was at BC," Jones jokes, "but it's been a great transition so far. It's a lot of fun here, the guys are great, and I love it already."
Griffin, the AE's top three-point shooter last season, says the team has taken to Jones quickly. "It's been really smooth, the transition from Coach Chambers to Coach Jones. They have similar coaching styles in the sense they're both very enthusiastic and very passionate about the game. They have the same principles in that we want to play great defense and rebound the basketball as our main focus."
Although still new to the job, Jones is bullish about his team's chances for victory this season. "I think we could have some great success here," he says. "I think we're very talented, and I think we have great experience and terrific leadership, and a great understanding of work ethic."
One way Jones plans to build up the Terriers is through a tough nonconference schedule that has them playing perennial NCAA powerhouses such as Texas and Villanova.
"I think our guys here are used to playing a very competitive nonleague schedule," he says. "I think they've kept things in perspective. It's all about building towards March and trying to be the best team you can be when the America East Conference championship rolls around."
The men's team may be undergoing significant changes, but the theme for the women's team this season is continuity.
After an impressive 2010-2011 campaign (17-14, 12-4 America East), the Terrier women ended their season in heartbreak with a 65-53 loss to Hartford in last March's AE title game.
"That loss was very disappointing," acknowledges women's head coach Kelly Greenberg. "We had a lot of sad young women for several weeks afterwards, mostly because we didn't play very well. We came out from the get-go playing badly."
The Terriers are well equipped to avoid making the same mistakes as last year: with four of five starters returning, the team has experience on its side. Captains Caroline Stewart (COM'12) and Alex Young (COM'12) started every game last season, and guard Mo Moran (CAS'13) started all but five.
Perhaps most important to the success of the women's team will be reigning America East Player of the Year Chantell Alford (CGS'11, MET'13). Only the fifth sophomore ever to earn the award, guard Alford led the league in scoring, averaging 15 points and 4.2 rebounds a game and shooting .400 percent from the three-point line.
"It's a veteran group that has good personality, so that helps a lot," Greenberg says. "We do run a lot of the same things, we tweaked some things defensively, but to be able to look at a core group and know that they know what the heck I'm talking about all the time is really nice."
The women's team ranked second in America East in the preseason coach's poll, and like the men's squad, has a tough schedule this season, playing seven teams that qualified for the postseason last year. The Terriers also face a daunting slate of nonconference games, especially in the first half of the season.
"We have a lot of challenges on our schedule," Greenberg says. "We play several Big East teams, several A10 teams, and of course, Boston College. So we will be tested, and it will not be easy. We will hit bumps in the road, but as long as we keep working hard, win a few of those, and make sure we learn from those tough bumps, we'll keep moving forward."
The men's basketball Terriers start their season at Case Gym tomorrow, Friday, November 11, at 5 p.m., against the Northeastern Huskies. Tickets are $10 for the general public, $5 for BU students, faculty, and staff. The women's basketball team launches its season immediately after the men's game, taking on the Providence Friars. Tickets for that game are $7 for the general public, $5 for BU students, faculty, and staff. Tickets for both events can be purchased at the Agganis Arena/Walter Brown ticket office or ordered online for the men's game here and for the women's game here.
Ben Carsley can be reached at bcarsley@bu.edu.