Lunch, Anyone? Roast Beast
A carnivore's delight
From the sidewalk, Roast Beast looks like any other hole-in-the-wall restaurant. But step inside and you quickly realize this restaurant is different. For starters, as its name suggests, the eatery is a celebration of red meat. The only other item on the menu besides roast beef is a mouth-watering turkey, so if you're a vegetarian, this is not the place for you.
Upon arriving, we were greeted by the friendly staff, who immediately offered samples of the restaurant's many unique cheeses and sauces. And these are what make Roast Beast really special. We sampled the secret beast sauce, which is similar to barbecue sauce. We also tried what is billed as its "thermonuclear sauce," which is made with ghost chili, the hottest pepper in the world. Just a drop on the end of a toothpick was enough to cause our mouths to burn.
For those diners feeling particularly daring, Roast Beast offers the Thermonuclear Challenge: eat a sandwich with the deadly spicy sauce in just five minutes, and you get a T-shirt boasting you're "simply the beast," along with your photo on the restaurant's Wall of Beasts.
We bypassed that challenge, but went on to have an enjoyable meal. Sandwiches are customized, which means diners select the size, roll, and toppings individually. The portions are big: a regular size sandwich ($6) is a good size for lunch. Large sandwiches are $8. True carnivores might want to take on the mega size sandwich ($10), which comes with about twice as much meat as the regular size.
Diners can choose from roast beef, oven gold turkey, or a mixture of both. The roast beef is juicy, not overcooked, and makes for a great sandwich. However, the oven gold turkey was even more flavorful than the roast beef.
As delicious as the beef and turkey is, it's the restaurant's sauces and toppings that really stand out. They're free and you can choose as many as you like. The extensive options include honey Dijon mustard, horseradish sauce, and Russian dressing. We tried the chipotle mayo with the three-pepper Colby, which added a kick to our roast beef on wheat without overpowering it, and the secret beast sauce on a roast beef and turkey sandwich, which proved an even better choice. The turkey made the sandwich taste smoother and more flavorful, with the secret sauce making it sweeter.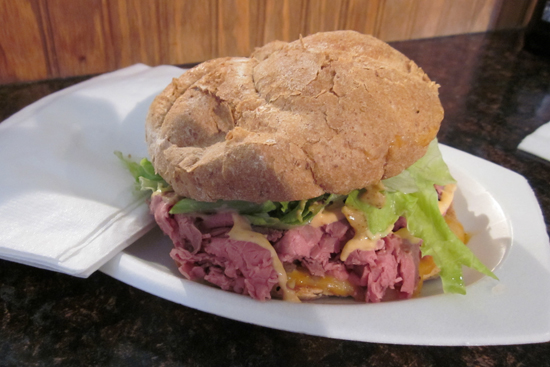 The extra 25 cents to try one of Roast Beast's specialty cheeses, such as horseradish cheddar, is money well spent. Tomato, lettuce, and onion are included in the price, but the Winkle's spicy pickles are the perfect blend of sweet and spicy and at 50 cents more, worth every penny.
Roast Beast's décor is sparse, with a framed American flag hanging above the bar stools and miniature cactuses adorning the countertops. A large bull skull with sunglasses hangs on the wall behind the cash register.
Open just since April, Roast Beast's casual atmosphere, delicious roast beef sandwiches, and cheap prices have already made it a popular destination for students.
Roast Beast is at 1080 Commonwealth Ave., across from Star Market; phone: 617-877-8690. The restaurant is open Sunday, noon to 7 p.m., Monday, 10 a.m. to 8 p.m., Tuesday and Wednesday, 11 a.m. to 8 p.m., Thursday, 11 a.m. to 9 p.m., and Friday and Saturday, 11 a.m. to 10 p.m. You can either walk or take an MBTA Green Line B trolley to Packard's Corner. Roast Beast accepts all major credit cards except American Express.
This is part of a weekly series featuring Boston lunch spots of interest to the BU community. If you have any suggestions for places we should feature, leave them in the comments section below. Check out our list of lunchtime tips on Foursquare.
Allison Thomasseau can be reached at althoma@bu.edu.
This Series
Also in
April 18, 2018

April 11, 2018

March 29, 2018