Remembering Elizabeth Bishop
BU hosts celebration of poet's centennial Thursday night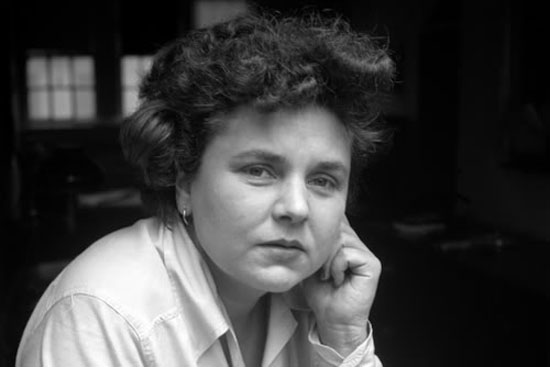 She was born 100 years ago, yet Elizabeth Bishop's poetry remains as fresh now as it was when she wrote it. "Her poetry speaks to many issues that are urgent today: gender identity, our difficult relationship to foreign cultures and postcolonial realities, the way that science and reason can sometimes do violence to the world," says Bonnie Costello, a College of Arts & Sciences professor of English and author of Elizabeth Bishop: Questions of Mastery.
Tonight, Bishop, who died in 1979, will be the subject of a centennial celebration. The Poetry Reading Series event, Elizabeth Bishop at 100, will bring together 17 poets, critics, and editors, who will read aloud some of Bishop's best loved poems, including "In the Waiting Room," "Sandpiper," "Shampoo," and "First Death in Nova Scotia."
Among the evening's readers are Costello; Christopher Ricks, BU's William M. and Sara B. Warren Professor of the Humanities; David Ferry, a CAS visiting lecturer in creative writing; and event organizer Meg Tyler, a College of General Studies associate professor of humanities.
"Every recitation is an interpretation of a poem, so the audience will hear 17 different interpretations," says Tyler. "These will be performances of some kind. It will be fascinating to hear Bishop voiced by all these different people."
Bishop was a contemporary of Robert Lowell, who taught at BU in the 1950s, and John Berryman, both labeled "confessional" poets. Unlike them, she was painfully shy. And while many of her poems reveal intimacy and psychological depth, says Costello, "they are not autobiographical in the explicit ways that Lowell's were."
If there are glimmers of loss in Bishop's poetry, it may be because so much of her life was overshadowed by tragedy. She was born in Worcester, Mass., in 1911, and her father died when she was an infant. Her mother was institutionalized several years later for mental illness, and for most of her childhood she was shuttled from relative to relative. Later in life, she battled alcoholism, and in 1967 her lover, Lota de Macedo Soares, committed suicide.
Costello says today's students should read Bishop "for the abiding concerns of poetry—love, longing, memory, the fear of death—all of those universal human experiences."
Often described as a "poet's poet," Bishop wrote slowly, often spending years on a single poem. She produced only five volumes of verse, totaling little more than 100 poems over the course of her life. But her work—sensual and often rooted in geography (she spent much of her life abroad, most notably Brazil)—earned her nearly every honor imaginable, including a Pulitzer Prize, a National Book Award, and a Book Critics Circle Award.
Dana Gioia, a former chairman of the National Endowment for the Arts and a respected poet, describes Bishop as "the most highly regarded American poet of the second half of the 20th century." Writing in the February 5 Wall Street Journal on the occasion of the publication of two new volumes, titled Poems and Prose, celebrating Bishop's centenary, Gioia declares Bishop "for the time being at least, the most popular woman poet in American literature after Emily Dickinson."
The reading tonight will include not only Bishop's poems, but other writings as well. For his part, Ricks plans to read from Bishop's prose. "She created her own remarkable essays, memoirs, stories, and letters," Ricks says, "and she wrote with great imaginative sympathy about prose writers, particularly women."
Costello hopes that tonight's reading will give the BU audience a "renewed sense of how remarkable Bishop's talent was—and how varied."
Elizabeth Bishop at 100 is tonight, Thursday, February 10, at 7 p.m. in the College of General Studies Jacob Sleeper Auditorium, 871 Commonwealth Ave. The Poetry Reading Series is cosponsored by BU's Humanities Foundation and the College of General Studies; tonight's Bishop centennial celebration cosponsors are the literary magazine Agni, published at BU, the Poetry Society of America, and Farrar, Straus and Giroux. The event is free and open to the public. For more information, call 617-358-4199 or email Meg Tyler at mtyler@bu.edu.
John O'Rourke can be reached at orourkej@bu.edu.