Lunch, Anyone? Tasty Burger
A quirky restaurant whose name doesn't lie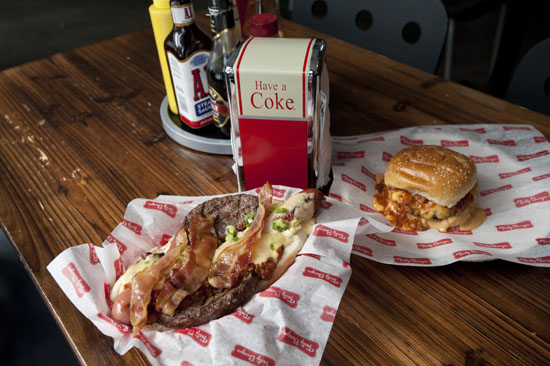 With so many fast food restaurants on Boylston Street, it's easy to overlook Tasty Burger, which opened just five months ago. But make no mistake about it: this is an ambitious new burger joint.
Named after a popular line of dialogue delivered by Samuel L. Jackson in Pulp Fiction, Tasty Burger offers an inventive menu that will fill you up without emptying your wallet.
The restaurant is like no other burger place I've been to and provides a twist to the standard fast-food formula. In addition to a general seating area, it features a bar lined with Rubik's cubes and magic 8-balls, as well as four TVs. The day we were there, the sets were tuned to FX, Syfy, ESPN, and AMC. There's also a full-sized pool table, and in a nod to its namesake film, a gigantic painting of Jackson.
It isn't just the burger joint's aesthetic quirks that will raise some eyebrows. So will the menu.
In the mood for something interesting, we ordered the Blue Collar Burger ($5.50), a deep-fried patty with honey mustard sauce. The burger arrived to order, done medium-well, and had a satisfying crunch. The patty's surprising texture was in perfect harmony with the sweet honey mustard.
We also ordered chili cheese fries ($5) and a vanilla milkshake ($4.25). The fries were chili-heavy, and while filling, didn't compromise when it came to taste. The shake, on the other hand, was lighter than your standard milkshake. That said, you may want to go with an even lighter beverage to compensate for the large portions that arrive at the table.
Tasty Burger's menu includes other intriguing and unusual combinations to tempt a meat-lover. The Big Kahuna Burger ($5.50)—another Pulp Fiction reference—comes garnished with pineapple, grilled red onions, and teriyaki sauce. One of the more bizarre concoctions is the Butta Burger ($5.50), slathered in creamy Vermont butter. There's also the Hubba Burger ($5.50), made with chili and cheese, which a friend ordered. His reaction: "I'm afraid if I pick it up, I may not put it down again."
Despite its name, the restaurant's claim to fame may well be the All the Way ($12). This monster of a meal is a hot dog (or a "shaft" in Tasty Burger parlance) that arrives in a fresh-baked bun, covered in chili, cheese, and bacon, and topped off with two burger patty halves. The restaurant offers a challenge: diners who can put away three All the Way dogs (a whopping 4.5 pounds of meat) in less than an hour get their meal free and their picture on the wall. To date, the restaurant says, five patrons have managed the feat.
Despite competition from a Burger King a couple of blocks down Boylston Street and the Upper Crust directly across the street, Tasty Burger should thrive. With unique twists on standard meals, it offers a place to satisfy your fast-food craving in an imaginative way
And being within walking distance of Fenway Park, the place is sure to be packed during baseball season.
Tasty Burger is at 1301 Boylston St., Boston, MA 02215, between Kilmarnock Street and Yawkey Way. The nearest T-stop is Kenmore Square. Tasty Burger is open seven days a week, from 11 a.m. to 2 a.m., and accepts all major credit cards. Take out is available for those on the go; to order, call 617–425-4444. A menu can be found here.
This is part of a weekly series featuring Boston lunch spots of interest to the BU community. If you have any suggestions for places we should feature, leave them in the comments section below. Check out our list of lunchtime tips on Foursquare.
John Fichera can be reached at jfichera@bu.edu.
This Series
Also in
April 18, 2018

April 11, 2018

March 29, 2018