Lunch, Anyone? Max Brenner
Go for the chocolate, stay for the food
When Max Brenner opened in Back Bay last March, the excitement was palpable. Bostonians could now get a taste of the restaurant's mouthwatering chocolate without having to travel to Manhattan (or to its farther-flung outposts—Las Vegas, Philadelphia, Australia, the Philippines, Singapore, or Israel). While Max Brenner initially earned its reputation for such confectionary delights as chocolate chunks pizza and OMG chocolate chip cookies, the restaurant offers plenty of intriguing entrees that make it great for lunch. After all, as the menu commands: "Food First, Then Chocolate."
Located on Boylston Street, Max Brenner offers both a restaurant and small retail store. The interior is intimate and chic, with dim lighting, and lest you forget where you are, dozens of bottles filled with chocolate scattered throughout. Outdoor seating is available during warm weather months.
The unconventional menu is divided into sections that include "For Dipping," "For Your Hands," and "With Knife and Fork," emphasizing the restaurant's whimsical approach to food. The dipping section and side dishes work well as appetizers, and include a creamy spinach and artichoke fondue ($11.95) and waffle fries dusted with chili powder and cocoa powder ($5.95)—a traditional Max Brenner touch. (The restaurant's bold motto is: "Creating a new chocolate culture worldwide.")
We ordered Molly's white corn croquettes ($6.95 for four), seasoned corn and manchego cheese balls coated in panko breadcrumbs and then lightly fried. They were served with a spicy cheese dipping sauce that had just the right amount of chili powder. It's a not-to-be-missed dish.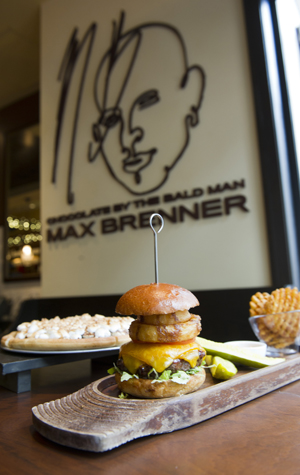 The "For Your Hands" menu includes traditional comfort food, ranging from the Brenner burger ($13.95) (right), topped with cheddar cheese, onion rings, and Max's "secret" barbecue sauce, to the Sloppy Max ($14.95), a pulled pork sandwich with barbecue sauce and topped with coleslaw on a brioche. The Sloppy Max lives up to its name—messy but delicious. The pork is tender and juicy, the barbecue sauce tangy, and the coleslaw creamy and crunchy. The acccompanying fries come with a spicy cheese dipping sauce.
Venturing into the menu's "With Knife and Fork" section brings heftier prices. But a classic thick-cut New York strip steak ($28.95) is a hearty meal—the 12-ounce steak is served with the aforementioned Molly's croquettes and sautéed fingerling potatoes. The Creamy Parmesan Risotto ($20.95) is another standout. The risotto has an eclectic range of flavors and is served with vegetables, black beans, a lemony grilled chicken, chorizo sausage, and manchego cheese.
The delicious entrées made saving room for the restaurant's famed desserts challenging, but they are a big part of the Max Brenner dining experience. Diners beware: picking the right dessert is harder than you might think since dessert offerings far outweigh those in other categories.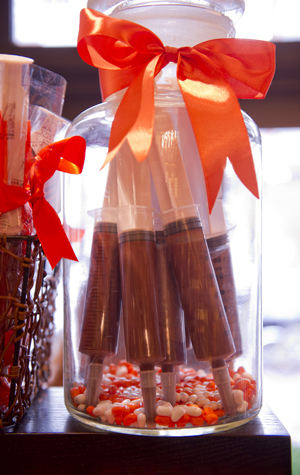 The restaurant uses chocolate in everything from cocktails, such as the Berry Nutty Professor ($11.95), made with peanut liqueur, Frangelico, Chambord, and milk chocolate, to the chocolate eggroll ($11.95), a delicacy filled with banana chocolate fudge and served with a creamy milk chocolate dip and sea salt caramel sauce.
Peanut butter lovers, we selected the Euphoria Peanut Butter Chocolate Fudge Sundae ($12.95), which comes with deep chocolate peanut butter and dulce de leche ice cream mixed with caramelized toffee bananas, pure chocolate chunks, and salty peanuts, topped with whipped cream and bits of hazelnut, smothered in milk chocolate and warm peanut butter sauce. Ironically, it proved our one disappointment. There were too many ingredients in this dessert competing with, rather than complementing, one another. The sundae had far too many peanuts and by the time you dug through the whipped cream and bananas to the ice cream, it had melted. The expansive dessert menu has so many inventive options, it's better to pass on this one.
Despite our not-so-euphoric dessert, Max Brenner will satisfy even the largest of appetites. A lunch here reminds you that this restaurant has a lot more than chocolate going for it.
Max Brenner is at 745 Boylston St., Boston. Phone: 857-221-5890. The restaurant takes all major credit cards and serves from 11:30 a.m. to midnight Monday to Friday and from 10 a.m. to midnight on Saturdays and Sundays. A limited menu is available from midnight to 2 a.m. every night. By public transportation, take any Green Line trolley to Copley Square and walk towards the Hynes Convention Center stop. The restaurant is on your right.
John Fichera can be reached at jfichera@bu.edu.
This is part of a weekly series featuring Boston lunch spots of interest to the BU community. If you have any suggestions for places we should feature, leave them in the comments section below. Check out our list of lunchtime tips on Foursquare.
This Series
Also in
April 18, 2018

April 11, 2018

March 29, 2018