Catholic Chaplain Sister Olga Leaving BU
Will establish new order of nuns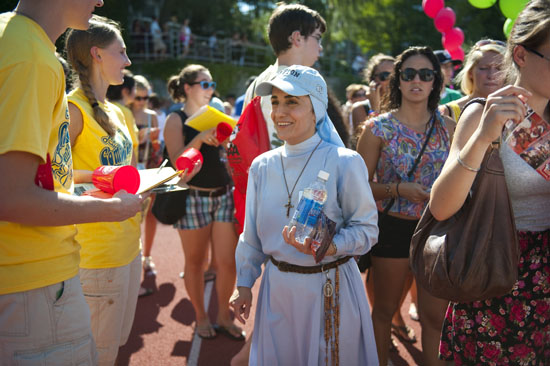 Years ago, while still in her native Iraq, Sister Olga Yaqob founded the first new order of nuns in the Assyrian Church, a Catholic denomination with its own patriarch, in seven centuries. Life has now circled back for BU's Roman Catholic chaplain, who will leave the University at the end of June to start a new religious order for women in Boston.
The Archdiocese of Boston has tapped the Rev. John McLaughlin, the first-ever vocations director for the U.S. military, to replace her.
Yaqob, an enormously popular presence on campus, announced her decision at the Catholic Center's April 10 Masses. She says she addressed worshipping students in person because she "didn't want them to feel that my departure is an ending of my love and care for them."
"Leaving the BU community is like leaving a family," she wrote last week in a valedictory letter accompanying Marsh Chapel Dean Robert Hill's emailed announcement of her departure. "In many ways, this community has become my home away from home."
Yaqob came to BU as a part-time worker at the Catholic Center in 2002 and has been full-time for six years. She was named Catholic chaplain just last summer by the archdiocese, the second woman to hold the position. In her letter, describing the University's lasting influence on her, she noted that she made her final vows as a nun in 2005 at Marsh Chapel, and became a U.S. citizen in 2007 because "God has given me many American children at BU, and it was time for their mother to be an American, too."
Cardinal Sean O'Malley first approached Yaqob about founding a new religious order three years ago, she says, adding that she prayed about and pondered his invitation while keeping in regular touch with him.
Hers is one of two new orders of nuns trying to form in Boston, according to Sister Marian Batho, the archdiocesan delegate for religious. The last order of nuns established in Boston was the Poor Sisters of Jesus Crucified, founded in 1945, she says.
"This is certainly a very ambitious endeavor on her part," Batho says, "but I know it's also her dream." O'Malley has asked Yaqob to draft spiritual, constitutional, and rule-setting documents for the order, Yaqob says, and she is working with five BU alumnae who may enter the order. "We have already started the process of identifying a possible location for our convent. God willing, it is our hope to move into the new convent either by the end of the summer or early fall."
Rather than a specific mission such as education or tending the poor, she says her new order will seek to do everyday tasks with holiness, modeled on the way the Virgin Mary reached out to help people such as her cousin Elizabeth in Luke's Gospel.
As leader of campus Catholics, Yaqob is one of seven university chaplains who advise Hill on religious life at BU. "Her gracious presence, caring hugs, and loving smile have been lasting and meaningful gifts for us all," he wrote in announcing her departure.
O'Malley praised Yaqob for "fostering a deeply Catholic community" at BU. "She has served as a guide and spiritual mentor to young men in formation for the priesthood and women in formation for consecrated life."
Yaqob arrived in the United States in 2001 unable to speak a word of English. She learned the language at BU's Center for English Language and Orientation Programs. Iraq-bred, she left the Assyrian Church, to which her parents were devoted, after becoming enamored of Roman Catholic practice while attending weekday Mass in Iraq. She had worked as a lay minister there, helping the needy during the economically and politically devastating aftermath of the first Gulf War. Jesuits arranged for her to come to Boston College for graduate education, after which she began her BU ministry.
McLaughlin is a 53-year-old priest who was the pastor of St. Monica Parish, in Methuen, Mass., before undertaking an assignment three years ago with the Archdiocese for the Military Services, USA. In that capacity, he became the first national vocations director for the military, touring bases throughout the country to speak with military personnel contemplating the religious life. He'll find a BU Catholic Center in sound financial shape, Yaqob says.
In part because of archdiocesan budget cuts, she said last year that the center would need to raise $200,000 from donors. "Thanks be to God and the generosity of many good people, the BU Catholic Center was able to reach the goal of our operating plan for this fiscal year," she says.
A farewell reception for Yaqob will be held Sunday, May 1, from 7:30 to 9:30 p.m., in the George Sherman Union Backcourt.
Rich Barlow can be reached at barlowr@bu.edu.