BU Launches New Campus-Wide Arts Initiative
Goal: make arts part of all students' lives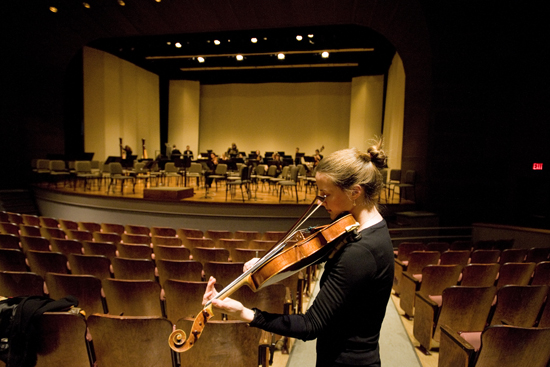 Visual and performing arts have always thrived at BU, but a new University-wide initiative put forth last week by Jean Morrison, provost and chief academic officer, is designed to ensure the arts will play a vibrant role in all students' lives, regardless of academic major.
"This is an exciting and energizing time for our University," Morrison says. "The arts have always been integral to our academic efforts and to our creative development and inspiration as individuals in so many different disciplines. It is important that BU has an initiative that brings appropriate attention to some of the extraordinary arts programs and activities we have on our campus. In the months ahead, we will be eager to invest in a proposal that meets the criteria we've outlined."
Whether it's concerts at the Tsai Performance Center, Marsh Chapel, or Boston's Symphony Hall, gallery shows at the College of Fine Arts or the 808 Gallery, or stage productions or dance performances on or off campus, the spirit of the initiative is to ensure that all students, even those probing elementary particles in the Photonics Center or pondering the Bill of Rights at the School of Law, incorporate the arts into their lives. That's the definition of an education in the liberal arts and sciences, says Virginia Sapiro, dean of Arts & Sciences, who is among the initiative's "collective leadership," along with Thomas Fiedler (COM'71), dean of the College of Communication, Robert Hill, dean of Marsh Chapel, and Benjamin Juarez, dean of CFA. The initiative will also draw on the expertise of Nicole Hawkes, associate provost for strategic initiatives, and Kenneth Elmore (SED'87), dean of students. "Universities have a responsibility to make sure that our graduates are appreciative and engaged consumers, supporters, and creators of the arts," Sapiro says.
"I'm thrilled to join my distinguished colleagues in developing an initiative that confirms BU's commitment to making the arts a distinctive part of our students' university experience and to celebrating their creativity," says Juarez. "The arts provide a powerful way for students to feel and view the world in all its complexity and help to develop the broad perspective and creative thinking skills that will help them to succeed."
Fiedler notes that the new initiative "intersects in myriad ways with areas of study here in COM." As future professional communicators, he says, COM students must "develop an appreciation for art in all its forms—visual, aural, creative, and more—to enable them to better reach the audiences they seek."
Recognizing BU's rich tradition in the arts and "the vast intellectual and creative capacity of our students, faculty, staff, and community," Morrison has convened a diverse planning group to, as she puts it, "improve visibility for the University's broad array of existing arts-related activities and create a programming framework to enhance access to and involvement with the arts campus-wide." The initiative will be underwritten with "significant central funding" from the University.
In addition to ensuring that BU students participate in the arts as an important element of their undergraduate experience and their intellectual and cultural life here, the planning group will develop several annual signature events to highlight the arts at BU, Morrison says. The group will work to increase the visibility of, and bring greater recognition to, arts programs and activities on campus and to build and sustain committed audiences for the arts both at BU and around Boston.
Morrison says she has asked the planning group for their recommendations by January 2012, "at which time we will engage a broader array of faculty, students, and staff" to steer the initiative forward. In the meantime, the ArtsLive@BU website will continue offering calendar listings for campus and local arts events, with input from BU undergraduates serving as "ambassadors to the arts." These students will help stir interest and participation in, and online discussion of, the many performances and exhibitions unfolding through the academic year.
"I am personally excited about this new thrust and venture and delighted to be involved in it," says Hill. "I think and hope it will mean that each BU student will have a fuller, richer, more personal immersion in the arts, from dance to music to visual arts." Hill has a particular interest in attracting students to both the Marsh Chapel Choir and the Inner Strength Gospel Choir. In endorsing the initiative he quotes the writer G. K. Chesterton: "The world does not lack for wonders, but only for a sense of wonder."