Terriers Trump Washington
Women's soccer scores a win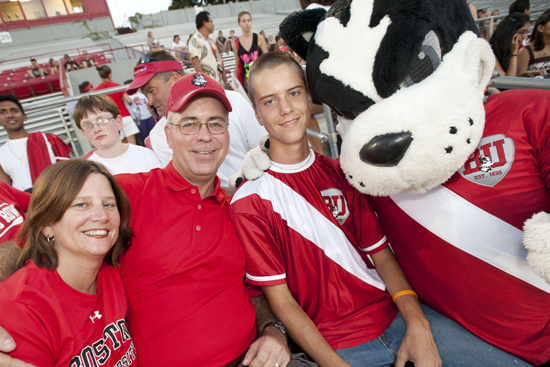 If it happens once, it can happen twice.
Fresh off Friday night's 3-0 victory over American University, the Boston University women's soccer team triumphed by the same score over the University of Washington, bringing the Terriers' overall record to 2-2-0.
"We played very competitively tonight," said head coach Nancy Feldman. "The girls are making great strides. I've seen a lot of improvement within the past week."
Lured by the promise of free soccer jerseys and ice cream, more than 2,000 students packed the Nickerson Field stadium for the game, which kicked off with a tailgate party, featured half-time performances by the BU Band and Dance Team, and concluded with a laser-light show.
The first half was a stalemate; play continued to move from end to end at a fast pace, as both teams began to pressure their opponents' defense. Finally, Jessica Luscinski (SAR'12) claimed the evening's first goal, which was quickly followed by goals from Emma Clark (CGS'12) and Jessica Morrow (CAS'13).
Clad in a jersey about three sizes too big, Edward Ho (CAS'14) watched the game with his new neighbors from Warren Towers. "Yeah, the shirt's a little big," he said. "But at least it was free."
Foreign exchange student Anna Garces (MET'11) cheered the team from her seat high in the stands. "We came out to watch the ladies show all the guys that women can play soccer, too," she said.
Jeremy Wernick (CAS'14) has only been on campus for a week, he said, but he already knows that BU is a good fit. "No one at my high school had any school spirit," he said, gesturing to the sea of scarlet and white. "It's nice to see that people at BU actually care."
Fans can watch the men's soccer team kick off its fall season at Nickerson Field on Wednesday, September 1, with a game against UMass at 7 p.m. Returning are 19 players from last year, joined by 10 newcomers. Leading the Terriers is team captain Aaron O'Neal (CAS'11), who last year earned First-Team All-Conference honors after recording the most goals and points at BU since 2001.
Men's head coach Neil Roberts, now in his 26th year at BU, is looking forward to Wednesday's game.
"It's always good to open against a strong team, especially an in-state rival like UMass," Roberts said. "The games between the two teams are always very close and well-played."
The men's team will play Boston College on September 17, at BC, and host Harvard at Nickerson Field on September 26. Fans should mark another date on their calendars: on Friday, October 15, at 8 p.m., the Terriers can be seen on the Fox Soccer Channel taking on the University of Maryland, Baltimore County. It will be the team's third appearance on the network in two years.
Meanwhile, the women's team plays again on Friday, September 3, against rival Boston College at Nickerson Field at 7 p.m.