Soccer: More Than Just a Game
Star goalie Kelly King inspired on and off the pitch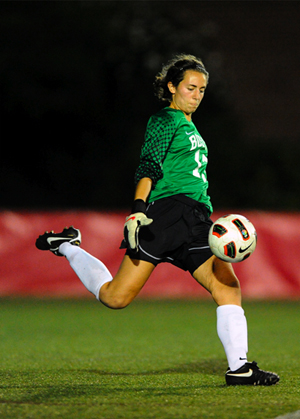 It would not be an exaggeration to say that Kelly King is kicking off her freshman year in style. Literally.
King (CAS'14), one of two starting goaltenders on the Terrier women's soccer team, is in the enviable position of possessing a nine-game shutout streak (one of the longest for a Division I women's soccer team in NCAA history). Alongside fellow starter Alice Binns (SAR'12), the star goalie has defended the Terriers to a 6-0 America East record, 12-5 overall.
From the beginning of the season, King has guarded the BU goal for the first half of every game, handing over to Binns for the second half. The tag team strategy appears to be a winning one: the Terriers clinched at least a tie for the America East regular season championship on October 17 with a 4-0 win against Binghamton University.
Soccer has been a big part of King's life since she was four years old, when she began playing in a recreational league. By high school, she was a force in net for the Laurel School in Shaker Heights, Ohio.
"My dad took me aside one day when I was 10 and had been playing soccer for a while," says King. "He said, 'Maybe you should be a goalie, because you're one of the slowest runners out there.' He had a point, so I started training as a keeper."
It's a position, she says, that she's grown to love.
Two years ago, she went to Africa with her high school assistant coach and a group of student volunteers to teach English to toddlers and youth in Tanzania.
Kelly King with one of the toddlers she taught in Tanzania in June 2010.
Then 16 years old, King spent much of the trip working with young women in the Arusha region of Tanzania. One day, she recalls, she and her fellow volunteers started playing soccer with the girls, a game some of them knew only from watching the boys play. "We started teaching the girls soccer and handball," King says. "We were having so much fun with them. Then the boys saw us playing, and they were surprised to see the girls playing sports and us American girls playing soccer and knowing the game."
The Arushian girls got a kick out of seeing the boys' dropped jaws, and invited their male counterparts to play the game with them. King realized at that moment, she says, that soccer could be more than just a sport, but could transform the lives of young women.
"Soccer broke down a gender stereotype in that area better than our lessons could," she says. "Playing soccer gives girls a similar activity, a similar interest that they can do and talk to the boys about. The girls showed the boys that they could do something any boy can do. That boosts their confidence."
Returning to the United States, King had a new passion: helping to empower women in African nations. That interest led her to enroll in Boston University's international relations program.
After graduating from high school this past June, King returned to Tanzania. She says that she used soccer as a way of forging a community with the young women she was working with.
BU women's soccer head coach Nancy Feldman credits King's experience abroad with reinforcing the qualities that have made her successful on the field this season. "She is a very confident player," says Feldman. "That confidence comes from her experience off the field traveling and helping others abroad. She brings a unique set of experiences to our team."
King's confidence was evident during BU's 1-0 win against Dartmouth last week, the women's soccer program's  200th win. "You could see that Kelly wasn't fazed by playing Division I soccer," says Feldman. "It wasn't that she came in cocky or boastful—she was respectful of the older players, she was respectful of Alice, and she just set out to contribute the best she could."
"Coming in, I just wanted to try my best every single day, and see where it would take me," King says. "I wanted to learn from everyone on the team."
The rookie player says she and fellow goaltender Binns have set high standards for themselves on the field this season. "We don't want to let in more than 12 goals, which I hope we are on our way to. We want to win the America East regular season and tournament titles."
Once the season's over, King says, she'll start to set her sights on next summer, when she to plans to return to Tanzania. There she wants to once again draw upon soccer's universal appeal to spread a message of female empowerment.
"I enjoy how soccer goes hand-in-hand with my interests in Africa. It took me by surprise," says King. "You can go there and not speak a word of their language, but connect to them by playing sports."
The BU women's soccer team hosts its last two regular season games this week at Nickerson Field: on Thursday, October 21, at 7 p.m., against Albany, and on Sunday, October 24, at 1 p.m., against Maine. Tickets are $2 for students, faculty, and staff with a BU ID and $5 for the general public.
Kat Hasenauer Cornetta can be reached at katcorn@bu.edu.