Mr. Sloane Is Entertaining
Orton's darkly comic tale of a con gone wrong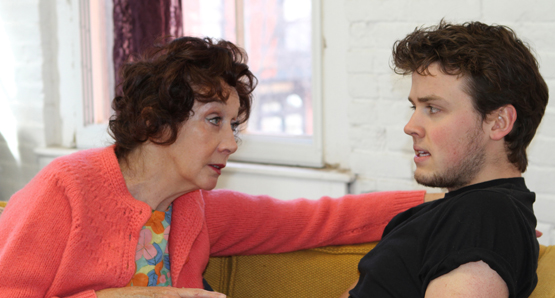 A brashly provocative playwright whose short career in the 1960s included What the Butler Saw and Loot, Joe Orton weaves seduction, despair, and slapstick into his dark comedy Entertaining Mr. Sloane, the current production of the Publick Theatre Boston.
Portrayed by Jack Cutmore-Scott, Mr. Sloane is a handsome con man who preys on an isolated family in a dilapidated house. Directed by Eric Engel, the play pulls Sloane into the desperate, lonely world of delusional Kath (Sandra Shipley), her ailing father (Dafydd Rees), and her estranged brother Ed (Nigel Gore). Sloane's shady past, seductive manipulations, and unctuous charm prove no match for the family members, although they're cunning in their own right.
The play premiered at London's New Arts Theatre in May 1964 under the direction of Michael Codron. Reviews ranged from praise to outrage. Entertaining Mr Sloane tied for first in the Variety Critics Poll for Best New Play and Orton, who died in 1967 at age 34, came in second for Most Promising Playwright. Within a year, Sloane was being performed in New York, Spain, Israel, and Australia and was transformed into a film and television play.
Publick Theatre Boston's production of Entertaining Mr. Sloane runs Wednesdays through Sundays until April 3 at the Boston Center for the Arts Plaza Theatre, 539 Tremont St., Boston. Half-price student rush tickets are available. Purchase tickets here or call 617-933-8600. More information is available here.
Susan Seligson can be reached at sueselig@bu.edu.