Poetry for the People
Urban poets and live DJ perform at Playwrights' Theatre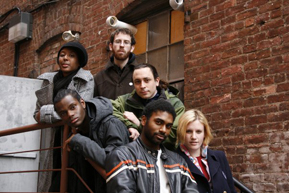 Six young local poets take to the stage this week at the Boston Playwrights' Theatre to talk about love, religion, and the effort to keep art alive. ARTiculation — conceived by Tory Bullock, produced by the local theater company Company One, and written and performed by the poets — features music, dance, and a live onstage DJ.
The production is directed by Lois Roach, a visiting artist at Wellesley College; Liz Rimar (CFA'08) understudies at the educational matinees.
ARTiculation runs from January 9 through 24 at the Boston Playwrights' Theatre, 949 Commonwealth Ave. Performances are Thursdays at 7:30 p.m., Fridays and Saturdays at 8 p.m., Saturdays at 10 p.m., and Sundays at 2 p.m. Tickets are $15 for students, $22 for seniors, and $30 for the general public. To purchase tickets, visit the BPT Web site.
Jessica Ullian can be reached at jullian@bu.edu.