Honoring Larry Legend
Celtics great Larry Bird on Boston, basketball, and coming to BU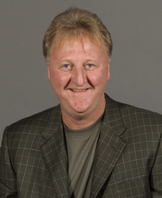 Forget King James and Superman. Never mind the Truth or the Big Ticket. There's still only one Legend.
In his 13 years playing for the Boston Celtics, Larry Bird racked up every award that professional basketball bestows: Rookie of the Year. Three-time MVP. Three-time NBA champion. Later, he added more: Olympic gold medalist. Hall of Famer. Many called the Indiana native "the Hick from French Lick," but by the time he retired, in 1992, only one nickname stuck: Larry Legend.
Bird, now president of basketball operations for the Indiana Pacers, will come back to Boston next weekend for another accolade — an honorary Doctor of Letters at Commencement on Sunday, May 17. It's a fitting year for BU to pay tribute to a sports hero, and even Bird has caught a touch of hockey fever, calling the men's ice hockey Terriers' NCAA victory "a heck of a series."
"I think it's going to be a good fit," he says of his honorary degree. "I always like to be around champions."
Bird spoke with BU Today about Boston, basketball, and who the next Legend might be.
BU Today: Is Boston a better sports town now than when you were playing here?
Bird: The one thing I realized very quickly is that baseball was number one in Boston. If hockey had good teams, they were number two, and really football and basketball were number three. But it is a real sports town — a lot of cities around the country think they have great sports fans, but there's nothing comparable.
I think it's better now, because the baseball team has won a couple of championships after a long drought, and the football team's won three or four. I remember in 1986, we had three sports teams in the finals; now it seems like every other year Boston has two or three in. They're probably getting tired of having parades.
How has the city changed since the '80s?
Well, with the Big Dig, there's a different layout now. I was pretty amazed to see what they've accomplished there. And the new Garden — I was out there when it opened up, so I spent some time in there — is completely different than the old Garden. They have a lot more lights and a bigger scoreboard, but playing in the old Garden was one of the greatest things I've ever been able to do. It was a smaller building, above the train station, and it would shake at times. The fans were a lot closer, and I just thought it was a great atmosphere to play basketball in. I was always very honored, because of all the history.
Speaking of history, did last year's Celtics championship series against the Lakers bring back a lot of memories?
Yeah, because they had a lot of old clips up there and talked a lot about the '80s, when we were in the finals five times. It's different characters out there, but they're really the same teams. The Lakers have always been the Lakers, and the Celtics will always be the Celtics. And that's not something we started in the '80s — that happened in the '50s and '60s.
Still, when people think of that rivalry, they think of you and Lakers point guard Magic Johnson. Some say your showdown in the 1979 NCAA championship changed college basketball.
It's hard for me to agree with that; it's sort of said about the NBA, too. But there are so many great players that came before us — to say that me and Magic had a hold on college basketball is a little bit much. Obviously there was a lot of excitement around that game, and then going from college to the pros and playing against one another year after year in the finals, it just continued to get bigger and bigger. But I don't think we saved college basketball by any means. I think college basketball was doing fine before we got there.
How has it changed since then?
It seems like now the well-known universities, like Duke, North Carolina, get the abundance of talent. It was more spread out, it seems, when I played. You don't hear of many kids coming from the mid-majors making it to the NBA like they used to. A lot of it has to do with AAU [Amateur Athletic Union] basketball. These kids are studied and watched from a very young age.
Is that better or worse for college and the NBA?
There are some negatives and some positives — I don't know if it's better for the league or not. I like watching kids go to school and getting an education before they come out. I think the changes made so they can't come in from high school are good in the long run. Right now, they've got to be 19. I would like to see it even higher.
Why?
This is a man's league, and a lot of these kids that come in get lost in the shuffle and never make it. You always hear about the successes, but you never hear about the failures. So I think every kid coming out of high school needs to learn, mature a little, and get strong. Then you can do a lot better.
Kevin Garnett, one of those high school success stories, is on the bench with a knee injury, with the Celtics in the playoffs. As a former coach, how do you handle losing a star for the postseason?
You give somebody else an opportunity to step up. There're guys on the bench who don't get big minutes, and when you have one of your better players out, it's a good opportunity for a young player to come in and see what he can do. If you can handle the pressure and help your team out, it gives you confidence to play the way you want to play. It's a very good test.
You still root for the Celtics, right?
I work for the Pacers, but if we can't beat the Celtics, I don't want nobody else to beat them either. It was the same when I was in Boston, because I grew up as a Pacers fan. I always wanted them to win, until they played against us.
So how do you feel about the Celtics' chances this year?
Without Kevin it's going to be very tough. They can get through and do some good things, but if you don't have all your horses it's tough. I think the Lakers have a good chance. With their bench, and Kobe Bryant, and their size, they'll be all right. Obviously Cleveland's had a great year, and they have an opportunity, but I just think the Lakers will be better.
Every few years a great young player, like Cleveland's Lebron James, is called the next Michael Jordan or the next Larry Bird. When do you think that player's going to come along?
I don't get into all that. It would be hard for me to see another player playing his position like Michael Jordan did, but there will be, one of these days. Lebron James is more of a small forward, where I was a small forward and a power forward. But his athletic ability, his speed, and his ability to jump over defenders puts him in a class that I haven't seen before.
He also incorporates his team with everything he does. It's always good to see that. Because the individual stuff's great, but if you don't do it as a team, you're never going to be champions.
Jessica Ullian can be reached at jullian@bu.edu.