BU to Face Northeastern in Beanpot Final
Terriers take dramatic 4-3 victory over Harvard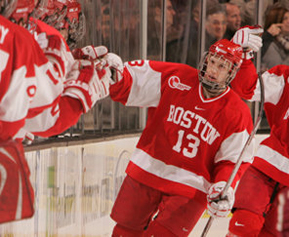 They were scoreless in the first period, tied for much of the second, and nearly went into overtime after a two-seconds-too-late goal by the Crimson, but the Terriers — now ranked number 1 in the country — topped Harvard in the opening round of the Beanpot to advance to their 24th tournament final in 26 years.
After lagging in the first period, the team was buoyed by two second-period goals by Nick Bonino (CAS'11). Boston University took the lead for the first time at 11:25 in the third period on a goal from forward Zach Cohen (CAS'10), and then with 1:46 left, Jason Lawrence (CAS'09) brought the Terriers' tally up to four on a power play.
The Crimson kept the pressure on throughout the game; Harvard's Pier-Olivier Michaud tied the score at three 14 minutes into the third period, and a last-second goal by Alex Biega appeared to tie the game until the play was reviewed by officials and determined to be after the buzzer.
The Terriers have won half the Beanpot championships since the tournament began in 1952, claiming the coveted trophy on 28 occasions. BU earned the title for 11 of the last 14 seasons and had won three straight before falling in overtime to eventual champion Boston College in last year's opening round.
Last season's first-round loss ended a streak of 14 straight title-game appearances for BU, which is 23-3 (.885) in the Beanpot since TD Banknorth Garden opened in 1995.
Sixteen current Terriers, including one goaltender, Adam Kraus (CAS'11), have appeared in the Beanpot. Seniors Chris Higgins (CAS'09) and Matt Gilroy (CAS'09) are veterans of six games in the tournament.
BU will face Northeastern for the championship next Monday, February 9, at 8 p.m at TD Banknorth Garden. Harvard and Boston College will play a consolation game prior to the final. Click here to visit the Athletics Web site.