Another Dream
Sonia Sanchez celebrates MLK at last year's event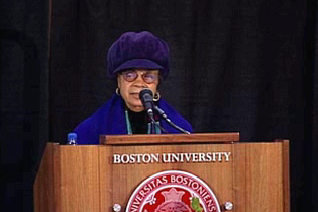 Click here to watch Sonia Sanchez on BUniverse.
Poet, playwright, and activist Sonia Sanchezspeaks and performs her poem "Peace" at Boston University's annualMartin Luther King, Jr., Day celebration. The 2008 homage to King(GRS'55, Hon.'59) is titled Ode to the Common People: A Celebration ofthe Life of Dr. Martin Luther King.
January 21, 2008, 1 p.m.
Metcalf Hall
The author of more than a dozen books of poetry, Sonia Sanchez is the recipient of an American Book Award for her collection Homegirls and Handgrenades,as well as a National Endowment for the Arts Award and a Pew Fellowshipin the Arts. She has also published plays and children's literature andedited two anthologies, We Be Word Sorcerers: Twenty-five Stories by Black Americans and Three Hundred Sixty Degrees of Blackness Comin' at You.
Among her many honors are the Community Service Award from theNational Black Caucus of State Legislators, the Lucretia Mott Award,the Outstanding Arts Award from the Pennsylvania Coalition of 100 BlackWomen, the Peace and Freedom Award from the Women's InternationalLeague for Peace and Freedom (WILPF), and the Pennsylvania Governor'sAward for Excellence in the Humanities.
Sanchez has lectured at more than 500 U.S. universities and collegesand has traveled extensively, reading her poetry in Africa, Cuba,England, the Caribbean, Australia, Nicaragua, the People's Republic ofChina, Norway, and Canada. She was the first Presidential Fellow atTemple University, where she began teaching in 1977, and held the LauraCarnell Chair in English there until her retirement in 1999. She livesin Philadelphia.