Terriers Drop Beanpot Game to BC, 4-3
BU to miss final for first time since 1994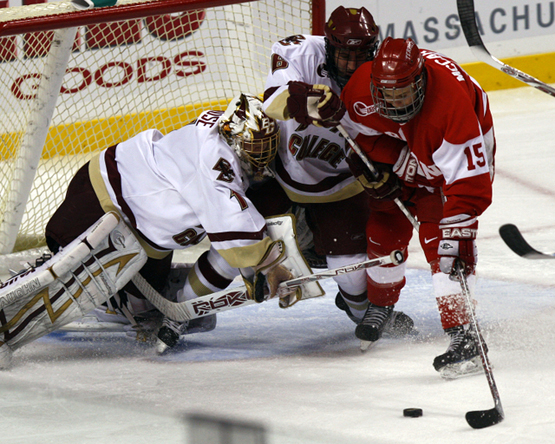 The BostonUniversity men's hockeyteam will miss the championship game of the Beanpot Tournament for the firsttime since 1994 after losing to the Boston College Eagles, 4-3, in overtime at the TDBanknorth Garden on Monday night.
The Terriers led, 3-2, after the second period,but BC tied the score early in the third, forcing the game into overtime. TheEagles' Nathan Gerbe scored the game-winning goal at the 7:15 mark of overtime.
Earlier on Monday, Harvard defeated Northeastern, 3-1, toreach next week's championship game. BostonCollege will now vie withHarvard for the Beanpot trophy on Monday, February 11, at 8 p.m. at TDBanknorth Garden. The Terriers will play Northeastern in the consolation game,scheduled for 5 p.m. the same day.
Beanpot tickets can still be purchased through Ticketmasterby calling 617-931-2000, at the TD Banknorth Garden box office, or online. Tickets are $28.50, $33.50, and $38.50. The gamewill be on NESN and on WWZN 1510 AM.
For complete game coverage, visit the Boston University Athletics Web site.
Jessica Ullian can be reached at jullian@bu.edu.