See Blue Man Group for Free (And Other Weekend Events)
Budget-friendly ways to enjoy music, yoga, food, and dance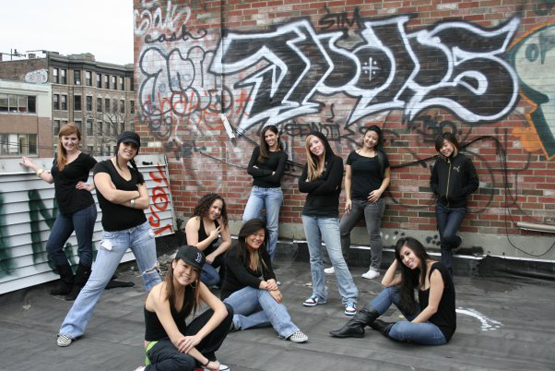 The cold and windy New England winter is beginning to fade away, so it's time to stop playing "Guitar Hero" and venture beyond your dorm room. This weekend, there are plenty of cheap — or free — activities on campus and in greater Boston as well. Not sure where to find them? Don't fret; BU Today has your weekend planned.
Tonight: Catch singer Jesse Schwartz (CGS'09), part of the Acoustic Café series, at BU Central, 775 Commonwealth Ave. Doors open at 8:30 p.m. and the show starts at 9.
Saturday: Start the day by de-stressing at O2 Yoga's spring open house, 121 East Berkeley St., in the South End. Check out its newest studio location, purchase discounted class cards, or participate in a free class: power yoga at 9:30 a.m., intermediate yoga at 11 a.m., and basic yoga at 12:30 p.m.
After you've relaxed your mind and muscles, why not grab some lunch and help a good cause? The BU chapter of the Sigma Delta Tau sorority is sponsoring EAT Your Way Through BU from 11 a.m. to 3 p.m. at BU Central. The all-you-can-eat buffet is $10 ($5 in advance at the GSU Link). In addition to food donated by Boston restaurants, there will be a DJ, performances, and raffle prizes. All proceeds benefit Prevent Child Abuse America.
If you're looking for some big-name entertainment closer to campus, Blue Man Group performs at the FIRST Robotics Competition at Agganis Arena on Saturday — and this may be your only chance to see the popular performers for free. The competition goes on all day, but the Blue Men take the stage at 12:45 p.m.
You can break for a nap (or maybe some studying) or head straight to the next event: Vibes 7th Annual Hip-Hop Showcase. BU student groups Fusion, Unofficial Project, the Edge Dance Co., the BU Dance Team, and Tru Sole will perform, as well as professional groups, including Phunk Phenomenon, Lil Phunk, FR3SH, and Floorlords Crew, among others. The afternoon show starts at 3 p.m. ($8 admission) and the evening show at 7 p.m. ($10 admission), both at the Tsai Performance Center, 685 Commonwealth Ave.
Sunday: Who says the weekend fun has to stop by Sunday? It's Salsa Sunday at the Ryles Jazz Club and Ryles Dance Hall, 212 Hampshire St., Cambridge. For $15, you can take a dance lesson at 6 p.m., and, after a dinner buffet at 7, practice what you've learned until 11 p.m., when the salsa, merengue, and cha cha music ends.
Rebecca McNamara can be reached at ramc@bu.edu.