Kenmore Square Road Work on Tap This Weekend
Round-the-clock construction begins Friday at 7 p.m.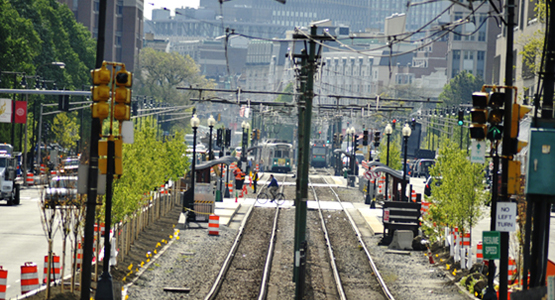 A weekend of round-the-clock road construction on campus gets under way this evening and will close an intersection and reduce travel lanes in Kenmore Square. The work involves excavation, pavement milling, and street paving and will continue day and night as contractors aim to wrap up the job within 48 hours.
Full-depth excavation begins Friday, May 30, at 7 p.m. at the intersection of Beacon and Raleigh streets and at the intersection of Deerfield Street and Commonwealth Avenue. Pavement milling — grinding and scarifying — is set to begin Saturday morning, May 31, on Commonwealth Avenue between the Raleigh Street and Deerfield Street excavation sites and on Beacon Street eastbound at the Hotel Buckminster.
Drivers take note: the intersection of Raleigh and Beacon streets will be closed Friday, May 30, beginning at 7 p.m. It will reopen Sunday, June 1, at 11 p.m. Throughout the weekend, police will be stationed at key roadway crossings, and traffic will be detoured from Beacon Street westbound to Commonwealth Avenue west and Bay State Road. There will be a single travel lane through the Deerfield Street and Commonwealth Avenue intersection, and the pavement milling work zones will allow travel lanes.
Caleb Daniloff can be reached at cdanilof@bu.edu.