Inspired by Winehouse
BU staffer Kerri French tapped for poetry anthology; reading tonight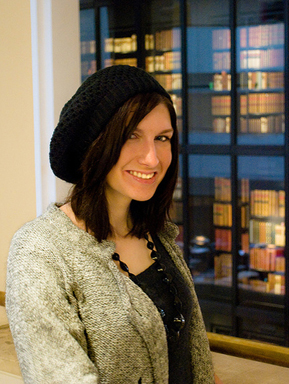 Earning a paycheck writing poetry these days is about as easy as finding a career in glassblowing, but the long odds aren't slowing the burgeoning matriculations in creative writing programs or the proliferation of online poetry journals. And sometimes the effort pays off, in recognition.
BU staffer Kerri French, a North Carolina native whose day job is College of Arts and Sciences philosophy department coordinator, recently received career-making recognition: inclusion in 2008 Best New Poets: 50 Poems from Emerging Writers, an annual anthology edited this year by celebrated poet Mark Strand. French, who has also published in a handful of small literary magazines and has broadcast her poems on Sirius Radio, made her way to Boston in 2006 with an MFA in creative writing from the University of North Carolina–Greensboro, trading her rural southern upbringing for city life in the Northeast. She started teaching part-time this semester in the CAS Writing Program, and her latest project, for DIAGRAM magazine, involves penning a series of poems on the turbulent life and times of British pop singer and tabloid regular Amy Winehouse. BU Today asked French about Winehouse as artistic muse and the pursuit of poetry in the Internet age.
Click on the audio player above to listen to Kerri French read her poem, "Tobacco."
BU Today: Tell me about Amy Winehouse as poetic inspiration.
French: The Amy Winehouse series I am currently working on is inspired by recent tabloid headlines, with the titles of the poems acting as newspaper headlines and the body of the poems serving as a reaction to those headlines. I'm writing most of the poems from an imagined first-person perspective and attempting to push against the way the media presents a celebrity to the public as if we actually know him or her.
I began this series because I was drawn to the plethora of headlines surrounding Amy Winehouse and was fascinated by how quickly the media turned on her. In only a short amount of time, she went from being lauded as one of the best new voices of her generation to being berated for the amount of bad publicity she produced, even though it was that very publicity that the media seemed to thrive on and even encourage as they camped outside of her house and conducted interviews through her intercom system.
How hard is it to make it as a poet these days? Did your parents ever try to talk you out it?
It's a bit hard to define what it means to "make it" is as a poet. Very few poets have the type of success that most people equate with famous writers. My favorite contemporary poets have all reached a significant level of success in the poetry world, yet it's very rare that anyone outside of the poetry community would know who these poets are. My parents have been incredibly supportive of my writing, though I'm sure they both wondered at times just what sort of work I would find with a creative writing degree.
What inspires you beyond the literary world?
I'm finding myself influenced by location, especially the area where I grew up. It wasn't until I was living outside of the South that I truly understood how the area influenced who I am as a person and writer. This is my third winter in Boston, yet I find that the longer I spend in the city, the more I turn back to the rural landscape I once knew as a child in North Carolina. I'm trying to explore what it means to be away from this landscape, to consider the ways that an area stays with someone long after they have left. I've always been fascinated by the connection that exists between poets and place.
How does Boston figure into your poetry?
The contrast between Boston and North Carolina has hugely shaped how I approach a sense of place in my poetry. In a lot of ways, the urban environment of Boston has pushed my poetry even further towards a rural, southern focus. While I love the pace of this city, there will always be a part of me that longs for the environment where I grew up, and this longing has been able to develop only while I have had the contrast of Boston to set it against. This city has seeped into my writing in very small yet significant ways. I've often found myself merging both urban and rural landscapes together into a single poem. For instance, I might jump from describing dimly lit train tracks in the present tense to referencing the past by describing a narrator's sketch of a tobacco field drawn while looking out an apartment window towards snow.
How significant is your inclusion in the Best New Poets anthology?
It's personally significant to me to be chosen for the book by a former poet laureate and Pulitzer Prize winner. It signals to me that my writing resonates with other poets and assures me that there is an audience for my writing, which is something every writer wants to feel when they are first starting out.
Do you have a writing routine?
I don't currently have any set routine. Between working in the philosophy department and teaching in the Writing Program, my writing time is limited to weekends. I try to keep notes throughout the week as a subject or a line comes to me, and then start from those notes later when I sit down to write. I use a great online organizing tool called Luminotes to keep track of all my ideas, as well as important deadlines. It's become a vital part of my writing process, and I've become much more focused since using it.
What advice do you have for other aspiring poets in this hyperfast, technology-driven age?
It's an exciting time to be a poet right now, much more so than when I was beginning to write. More literary journals are making themselves accessible on the Internet. Some journals have begun to publish entirely online and many others now accept, or even prefer, electronic submissions over paper submissions. There are also many new networking possibilities for aspiring poets to take advantage of. For instance, the MFA Blog offers the opportunity to receive advice from other writers who are currently applying to MFA programs. Just about every poet I know has now signed up for Facebook, including many former professors, making it possible to interact with other writers in a way that hasn't been possible in the past. Poets especially seem to be using social networking sites these days to keep up with colleagues and to meet new writers. Ultimately, my advice to aspiring poets would be to use these tools to make connections with others and to form a community that will motivate them to move forward with their own writing.
Kerri French will read her poetry tonight at Barnes & Noble at Boston University, 660 Beacon St., along with other contributors to 2008 Best New Poets: 50 Poems from Emerging Writers. The event starts at 7 p.m. and admission is free.
Caleb Daniloff can be reached at cdanilof@bu.edu.
I-26 East
By Kerri French
We were wrong, assuming the city
was a goodbye worth speaking.
That morning, the radio reported
hundreds of dolls falling from a truck,
their blonde heads bouncing endlessly
through a newly swallowed spring.
I wanted to see what was left: limbs
stripped from their plastic frames,
paisley dresses stained by tires,
eyelashes blinking into pavement.
From the hotel balcony, the traffic
seemed to swim from one season
to the next, our clothes laughing
against the wind's synthetic scrape.
Previously published in Brooklyn Review, Issue 24 (2007)