GRS Student Receives Fellowship to Research Abroad
François Lalonde (GRS'10) received a Graduate Research Abroad Fellowship for dissertation research in France and Great Britain next year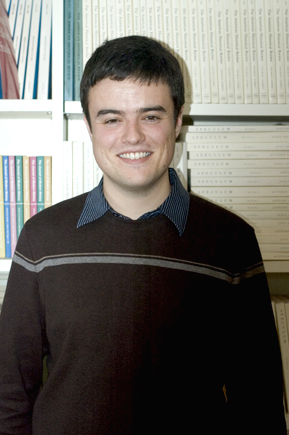 Last fall, François Lalonde (GRS'10) began research for his doctoral dissertation on post–World War II relations among the United States, France, and Great Britain. But he wasn't able to get a complete picture of the interactions of those countries from American archives alone. Now, thanks to a Graduate Research Abroad Fellowship from the Graduate School of Arts and Sciences, Lalonde will spend the next academic year digging through European archives and developing a comprehensive view.
"While according due attention to the Cold War context of relations among these three, I plan to broaden my vision to incorporate two other critical aspects of this relationship: the decline of European empires and the advent of European economic integration," he says. "The only way to fully understand these issues is to look at archives in all three countries."
Lalonde will begin his research in Paris in the fall at the French Foreign Ministry and the French National Archives. In the winter and spring, he plans to examine sources at the Public Records Office in Kew, outside of London.
"Many academic disciplines require extensive travel, and the costs involved for graduate students are very important," Lalonde says. "In helping us in this way, BU is providing graduate students with crucial support without which we would have a much harder time accomplishing our goals."
Rebecca McNamara can be reached at ramc@bu.edu.