BU Lacrosse Heads to Sixth NCAA Appearance
Terrier women's track takes AE outdoor championship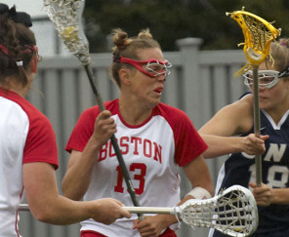 The number 6/8 Boston University women's lacrosse team sealed a fourth straight trip to the NCAA tournament on May 3, posting a 15-3 victory over Sacred Heart in an NCAA Play-In Game at Nickerson Field. Sarah Dalton (CGS'07, CAS'09) had a seven-point afternoon, posting five goals and two assists to help the Terriers match a program record with their 14th straight victory, improving to 17-2 on the season.
Despite shutting out the Pioneers in the first half, BU scored just five goals before the break, but took a 9-0 lead less than seven minutes into the second half. The Pioneers got on the board with 21:54 left in regulation, but the Terriers reeled off three goals in under two minutes to take a commanding 12-1 advantage.
Traci Landy (CGS'08) found the back of the net three times and Steph Walker (CGS'07, COM'09) had a hand in three goals, scoring twice in the early stages before adding an assist on the Terriers' first goal of the second half. Rachel Collins (CAS'11) also recorded a pair of goals and an assist.
Molly Swain (CFA'11) had the first multipoint game of her career, tallying a goal and an assist, while cocaptain Lauren Morton (CAS'08) and Jenny Taft (CGS'08) scored one goal apiece. McKinley Curro (CGS'08) and Xan Weitzel (CGS'08) were each credited with one assist.
Rachel Klein (CAS'10) recorded seven saves in goal for the Terriers, while sophomore goalkeeper Chelsea Wagner made 15 stops for the Pioneers, who finish their season with a record of 12-8.
Freshman Jessica Ingrilli scored two of Sacred Heart's three goals and posted game highs in both ground balls (7) and caused turnovers (3). Dalton corralled a game-best five draw controls, and Morton, Kara Hastings (CGS'08) and Katie Nichols (SAR'11) each had two caused turnovers.
BU outshot Sacred Heart, 31-14, and held a slim 22-20 edge in ground balls. The Terriers claimed 15 of the game's 20 draw controls and converted three of their five free-position chances. The Pioneers came up empy on both of their free-position tries.
The game was a matchup of the America East Conference and the Northeast Conference champions, with one of eight automatic NCAA berths on the line. BU will be making its sixth appearance in the national tournament.
The 2008 NCAA Championship bracket will be announced on Monday, May 5, exclusively on CBS College Sports Tonight, airing on the CBS College Sports Network between 7 and 8 p.m.
Terrier women take AE outdoor track and field championship; men finish fourth

The Boston University women's outdoor track and field team won the America East championship this weekend in Orono, Maine, led by the meet's high scorer, senior Tahari James. The men's team finished fourth, headed by senior David Proctor and sophomore Eric Ashe, who took first in the 800m and 3000m steeplechase, respectively. The Terriers' also earned the women's Coaching Staff of the Year award for the second consecutive season, after taking the title during the women's America East indoor championship as well.
The women's team totaled 193 points, finishing ahead of New Hampshire (119.5), Albany (116.5), UMBC (96), Maine (84.5), Binghamton (80.5), Vermont (65), Stony Brook (60), and Hartford (41).
Terriers took the first four spots in the long jump, headed by James' 6.18m distance. Sophomore Whitney Ford (5.85m), senior Edwina Clark (5.78m), and junior Alexis Beaudet (5.64m) all followed James; with junior Alyssa Fanucci took 21st with a 4.83m distance. James (13.01m) and Ford (12.39m) also took first and second in the triple jump, and freshman Alexandra Jackson placed 17th with a 10.70m distance. Freshman Karly Neveu finished second in the high jump with a 1.63m height, sophomore Fiona Romeri (3.00m) placed sixth in the pole vault, and freshmen Jen Fleser (40.39m) took 11th in the hammer throw. Senior Megan LaBella accumulated 3611 points in the heptathlon, good for sixth.
Senior Andrea Walkonen set a new meet record with a 34:42.03 time in the 10,000m, followed by sophomore Erin Lagasse, who crossed in 36:32.80, for second place. Walkonen (16:58.53) took third in the 5000m, trailing the champion, senior Marisa Ryan (16:24.85). Ryan's 4:29.69 time in the 1500m was good for second place, with freshman Emma Reed (4:33.50, 5), senior Anne Wighton (4:35.08, 6), freshman Molly James (4:54.23, 16), and junior Mollie Zapata (4:54.89, 17) rounding out the Terrier competitors in the event. James (12.02, 2), Ford (12.17, 3), senior Erin Catarius (12.32, 6), Jackson (12.64, 9), and Fanucci (13.21, 16) all placed in the 100m, while James (24.85, 3), freshman Laura Martin (25.30, 5), and Ford (25.68, 8) earned points in the 200m. Senior Kat Warden (2:11.75) and junior Katie Weider (2:13.47) took second and third in the 800m, respectively, and freshman Amanda Howard placed 14th in the 400m with a 1:00.58 time. Junior Rebecca Marshburn finished sixth in the 100m hurdles with a 14.92 time, also earning second in the 400m hurdles, crossing with a 1:01.74 mark ahead of sophomore Casey Jordan (1:05.19, 7). The Terriers' 4x100m and 4x800m teams took first with times of 46.51 and 9:04.76, respectively; the 4x400m team came in fourth with a 3:56.65 mark.
Junior Jan Bicanic won the discus with a 48.06m throw, followed by freshman Dan Withrow (47.95m, 2), sophomore Logan Moore (40.60m, 7), and junior Mike Salem (32.59m, 19). Bicanic (14.97m) also took fourth in the shot put, with Withrow (14.75m, 5) and junior Dan Martin (13.68m, 9) also earning points. Bicanic's 44.04m gained him eighth in the hammer throw, and Withrow (41.87m) finished ninth. Junior Jun Dambara's 1.88m height was good for fourth in the high jump, and sophomores Moore (4.35m, 6) and Jordan Cumper (4.05m, 10) both placed in the pole vault. Junior Kodjo Wilder took seventh in the long jump with a 6.78m mark and Beatman (47.79m, 12), freshman Chris Conroy (40.76m, 13), and Salem (34.05m, 16) competed in the javelin. Freshman Rich Haigh won the decathlon with 6384 points, and senior Greg Daggett, Jr., came in third with 5549.
Proctor earned gold in the 800m with a 1:51.79 time, followed by freshman Ken Haltom (1:55.65) in 10th. Senior Jake Laroe (3:50.74) was the runner-up in the 1500m, as seniors Pat Hoye (3:53.43, 5) and Nick Goodman (3:54.13, 6), sophomore David Polgar (3:58.55, 12), and freshman James Weider (4:08.36, 16) all crossed in the event as well. Sophomore Max Esposito (11.66) and junior David Barth (12.19) placed 13th and 18th in the 100m, respectively, with Esposito also taking 17th in the 200m with a 23.34 time. Junior Tom McKlean came in eighth in the 10,000m with a 15.35 mark, and senior Chadd Steinhauser (50.36, 12) and sophomore Adam Churey (51.74, 21) both placed in the 400m.
Ashe's 8:51.33 time in the 3000m steeplechase took first, junior Jason Nardella (15.35) placed eighth in the 110m hurdles, and sophomore Mark Mazzochette (55.99) finished ninth in the 400m hurdles. The Terriers' won the 4x800m relay with a 7:20.21 time, finishing sixth in both the 4x100m (43.39) and 4x400m (3:22.00).