A Side of Stand-up
Bryan Ames is the BU Pub's food services director by day, but he serves up the laughs at night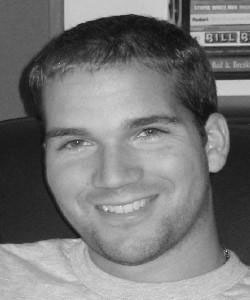 For Bryan Ames, the absurd moments of daily life are not frustrations — they're fodder for his next joke.
Ames, food services director of the BU Pub, started "messing around" with comedy in high school, he says, but it wasn't until his senior year at the University of New Hampshire that he became serious about it. In 2004, he entered a Funniest Person on Campus competition, placing second. But the emcee — who was affiliated with the Comedy Studio in Harvard Square — was impressed and helped Ames line up his first gig at the Cambridge club, where Ames often still performs.
So what's the secret to making a good joke? "You take something that has a natural level of absurdity or something everyone can relate to," Ames says, "extrapolate it out, and sometimes embellish your story."
Although he rarely refers to the BU Pub directly, he does rag on college students in general, especially when he performs on local campuses. He makes fun of "weirdly named" locations — Northeastern University's quadrangle, for instance — or student behavior, like bragging about alcohol consumption.
"It's a fun time. That's the whole reason I do it," Ames says. "When you can actually kill, and you're just flowing, it's absolutely the greatest feeling."
Rebecca McNamara can be reached at ramc@bu.edu.