New Residence Hall Is on the Rise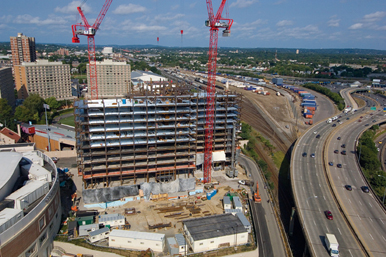 The West Campus skyline is changing, thanks to the construction of two rapidly rising student residence towers. Student Village Phase II, scheduled to open in fall 2009, will add 960 beds and is the next step in BU's long-range plan to house up to 85 percent of its undergraduates.
The building's foundation was laid and site utilities installed over the summer, says Peter Cusato, the University's vice president for auxiliary services. The steel frames of the towers, which will stand at 26 and 19 stories, are being erected at the rate of about a floor a week. A construction team recently began work on the towers' exteriors, a mix of metal, terra-cotta, and glass.
"We'll be topping off the building frame in February," Cusato says. "It'll be all buttoned up by July of next year, but there'll be a ton of work going on inside."
A new residence can hardly come soon enough to meet rising demands for on-campus housing. While the University currently provides housing for about 75 percent of the undergraduate population, Cusato says, there is some overflow population every year, which requires the Office of Housing to place some students in nearby hotels for a semester.
Unlike the student apartments at 10 Buick St. — a part of Student Village Phase I, along with the Fitness and Recreation Center and Agganis Arena — the new towers will offer both suite-style and apartment-style rooms. The variety reflects BU's desire to accommodate different ages and lifestyles, Cusato says, since the new residence will be open to sophomores, juniors, and seniors. The suites will have four single and two double bedrooms, with a shared kitchen and two bathrooms; the apartments will be similar to those at 10 Buick St., with four single bedrooms per apartment.
Currently, approximately 11,190 BU undergraduates live in campus housing. With the new building, 80 percent of undergraduates will be able to live on campus.
Katie Koch (CAS'09, COM'09) can be reached at klkoch@bu.edu. Edward A. Brown can be reached at ebrown@bu.edu.