Scholarships help BMC employees finish first degree
Elizabeth Pottier, a BMC program coordinator, received a President's Scholarship to finish an undergraduate degree.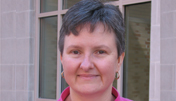 Elizabeth Pottier, program coordinator of the National Surgical Adjuvant Breast and Bowel Project at Boston Medical Center, has been an off and on student at Northeastern University since 1979. In addition to balancing a career and her personal life, she is working toward an undergraduate degree in health management. Pottier is getting a helping hand in this endeavor from her employer— she is one of 11 hospital employees recently awarded a BMC President's Scholarship.
The President's Scholarship Program provides select BMC employees currently working on their first college degree or professional certification with up to $2,500 for tuition, payments, and fees at a college, university, or accredited professional school. The award may also be used for expenses such as childcare and textbooks.
Pottier, who started studying for a health management degree six years ago, officially declared her major last year. When she matriculated in 1979, she was a nursing major. Currently, she takes one night class a semester and holds a full-time job. She hopes to finish the requirements in a couple of years and stay in the medical field, with a focus on research. "The reality is everyone out there has a degree now," she says.