Peter MacArthur named Beanpot MVP
Peter MacArthur was named Beanpot MVP.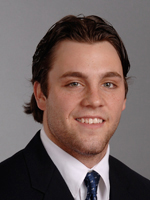 The Beanpot trophy is staying where it belongs — at Boston University —in large part thanks to Peter MacArthur (SED'08). The center forward, who scored the winning goal in February 13 tournament championship game against Boston College, was named Beanpot MVP.
The Terriers beat BC 3-2, giving BU not only its 27th Beanpot title, but something else to boast about — an 11-game winning streak, the Terriers' longest in a single season since the 1993–1994 season. With this year's victory, BU has now claimed half of the tournament's 54 championships.
Almost a minute after the Eagles tied the game at 2-2 early in the third period, Terrier Bryan Ewing (CAS'08) took a shot on net that was deflected by BC goalie Cory Schneider. MacArthur, who assisted on BU's first goal of the game, batted down the waist-high rebound and drove it past Schneider. The goal was his 12th of the year.