Megan Falls helps raise money for BUILD
Megan Falls (SMG'08) helped organize a benefit concert March 1 for the BUILD literacy program.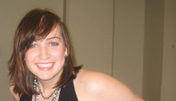 Megan Falls (SMG '08) spent the past year organizing a benefit concert that will help BUILD, a tutoring program at the University. Falls, along with Gili Malinksy (CAS '08), Victor Beiger (SMG '08), Marisa Gudrais (CAS '07), Laura Zientek (CAS '07), and Melissa Mulrey (CAS '08) decided to hold the concert as a way to raise money that will be used to purchase books for children without libraries at their schools.
Falls and her five partners shared equal responsibility in the benefit organization process. Falls helped choose the bands, draw up contracts and brainstorm ways to advertise. "There's been a whole slew of responsibilities," she says of the year-long process.
Slow Children at Play, the University's sketch comedy group, will host the event in between band sets. The concert will feature performances by The Whatnot, solo artist and assistant to Howie Day Alison Wood, Furvis, 86, and Todd Martin. Falls says she hopes the concert will not only raise money, but also "raise awareness" about illiteracy in America.
Admission is $5 for the concert, which will be held March 1 at the George Sherman Union Ballroom. Falls and her partners will be selling tickets Friday, Monday, and Tuesday in the GSU.