Former marathon runner keeps FitRec on track
Tom Duval on pace with 28 years at BU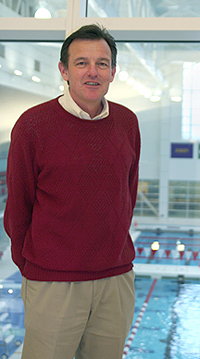 For Tom Duval, the new assistant facilities manager for the Department of Physical Education, Recreation, and Dance (PERD), physical education isn't so much a sprint as a marathon.

And boy, has BU come a long way.

When Duval looks back at the days before the Fitness and Recreation Center was built, he doesn't exactly get nostalgic. Picture a parking lot next to a former National Guard Armory that housed a running track. "It seems like another lifetime," he says.

Needless to say, Duval — who assumed his new post this past year after 28 years as coordinator for intramural and club sports at BU — is more than impressed with the FitRec building. "For years it was just a vision," he says. "But now it's difficult to imagine that the Armory and a parking lot once stood where Agganis Arena and FitRec is now."

When FitRec opened in spring 2005, Duval knew that BU's fitness offerings had finally entered the 21st century. The University community's prior weight-training and fitness options had been limited to aging and cramped facilities in the Case Center on Babcock Street and the Sargent Center on University Road.

"When we moved intramural and club sports into FitRec, I saw the opportunity to take on a new responsibility within the same department, so I asked to be considered for the position, and I was," he says. "I switched gears, and I've enjoyed the job so far."

Duval retains some of his old duties: he still manages PERD's summer-term instructional offerings, and he is one of 80 University marshals who volunteer at Commencement to make sure that the main ceremony runs smoothly.

He is also an avid runner. He has run eight marathons — the last the 1999 Boston Marathon, which he finished with a time of 3:39:10. Duval credits a handful of PERD colleagues with helping him overcome fatigue and soreness with their encouragement after he descended Heartbreak Hill.




He hasn't run a marathon since because at the end of the race he felt "like a truck hit me." At age 54, however, he is toying with the idea of running next year's Boston Marathon.

"It involves a lot of commitment and discipline," he says. "You have to start training six months before. I keep telling my kids that I want to run another marathon so I can say that I did it in my 50s. They say, 'Are you kidding?'"

One thing is for sure: if Duval runs the race next year, after nearly three decades at the University he is bound to have BU supporters along the route. "Of course, I get enthusiastic when I talk about it," he says. "I know some BU students who want to run the Boston Marathon before they graduate, and they ask me about the race. So I end up talking about it every year."

 

There's a good possibility he will end up at the starting line in Hopkinton next April. "I might just do it," he says. Like BU, he's come a long way.

And he's conquered Heartbreak Hill before.