Neil Shah wins Terrier Idol contest
Neil Shah (CAS'07) wins Terrier Idol contest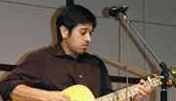 On November 8, Neil Shah (CAS'07) proved that he has what it takes to become the next idol — Terrier Idol, that is. Shah competed in the second annual Terrier Idol competition, which showcases the musical talent of University students. He took the first place award home with him.
A veteran who placed third in last year's competition, Shah auditioned this year with an original piece by his own band, A Great Day for Rain. He demonstrated his vocal and instrumental skills in his winning song, "Changing Seasons." Shah, who sings and plays guitar, piano, bass, and drums, won free recording time at Limelight Studios, where he plans to record his latest song, "Atrophy."
Shah and the other two Terrier Idol finalists will perform live on WBTU on Friday, November 18, at 8 p.m. To listen to songs by A Great Day for Rain, visit www.neilshah.8k.com.