Advising the rush from Tulane
CAS Senior Associate Dean Susan Jackson has advised dozens of Tulane visiting students this week.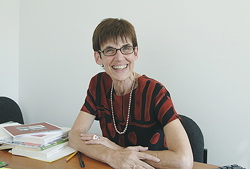 When Susan Jackson learned last weekend that BU would open its doors to Tulane students, she was determined to do everything in her power to help. The CAS Senior Associate Dean moved into an office at Metropolitan College, which has been registering the students every day since Sunday, helping dozens of visiting students find courses at CAS and around the University relevant to their studies.
Most of the emergency advising sessions take half an hour. "Some of the students are on their own, some come with clumps of friends, and some come with their parents," says Jackson, also an associate professor of French. "I'd say that 99 percent of them are impressively buoyant. What can be devastating, though, is seeing parents who feel that they have lost control, and who can no longer do everything they wish they could for their children."
"