Future Challenges: Science, Diplomacy and Development
VIDEO: Pardee House Seminar
July 23 , 2009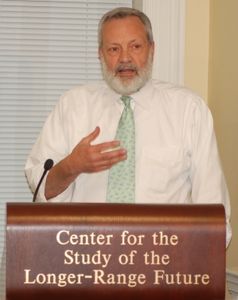 The Pardee House Seminar titled "Future Challenges: Science, Diplomacy and Development," was held on July 23 2009. At the seminar, a panel of experts said that the key to creating international scientific cooperation amongst developing countries with conflictual relationships will be the creation of well-developed and lasting personal relationships among international groups of dedicated professionals working on common and pressing scientific challenges, despite national political differences.
Sponsored by the Frederick S. Pardee Center for the Study of the Longer-Range Future, the Global Health Initiative and the Center for International Health, the lunch seminar was organized and moderated by Prof. Jerry Keusch, Associate Provost for Global Health at the Boston University School of Public Health. Other panelists included Dr. Zulfiqar Bhutta, Professor and Chair of the Department of Pediatrics and Child Health at the Aga Khan University in Karachi, Pakistan and a Visiting Distinguished Scholar at the BU School of Public Health; Amb. Harry Barnes, a career foreign service officer who served as the U.S. ambassador to Romania, India and Chile and more recently as the director of the Carter Center's Human Rights and Conflict Resolution Programs; and Dr. Patricia Wrightson, Director of the Committee on Scientific Communication and National Security at the National Academies in Washington D.C. Pardee Center Director Prof. Adil Najam gave welcoming remarks.
Prof. Bhutta spoke about the incongruity between high infant mortality rates in Pakistan and the country's ability to produce nuclear weapons and support a thriving biotech industry. He said policy makers and government institutions focus resources on short-term gains at the expense of tackling problems that require longer-term focus and commitment of resources. "There is no link between advanced science and some very fundamental issues," such as the need to develop dependable supplies of clean water, he said. If scientists and public health specialists from neighboring countries such as India and Bangledesh could work together with their peers in Pakistan, they may be able to solve public health issues on a regional scale. "Fundamentally these issues are the same and solutions may emerge by bringing together people who are working on them," he said.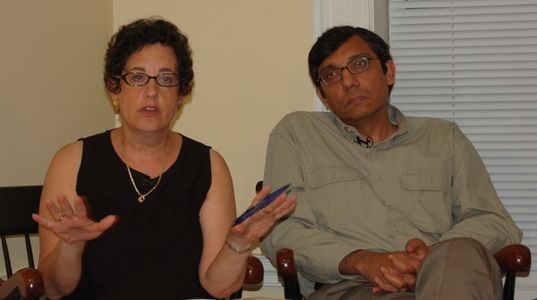 Ambassador Barnes talked about the need for diplomats to have both patience and perservence, and to know when which of these was needed most. He also said that effective diplomats need to be sensitive to the world around them "in the broadest sense" and need to understand the nuances of both people and policies. "You have to maintain a sense that anything is possible, and also realize that you don't have all the answers, but others might," he said.
Dr. Wrightson spoke of an effort started in 2002 to establish a trilateral biotech working group among scientists from Pakistan, India and the U.S., and the politics and misunderstandings that led to its dissolution after a promising start. She said the original purpose of the project was to develop relationships among individuals outside of government institutions who could work together despite national differences that would have prevented high-level, official collaboration. She agreed that personal relationships —  developed with the common goal of solving a specific problem and that can set aside political and national differences — are key to addressing important health challenges.
Dr. Keusch cited his personal experience as a member of a global health working group for the National Institute of Health for five years, part of which was during a time when the U.S. was not perceived as supportive of science. "On an individual level, people had relationships that we knew we could believe in, and we knew the politics would change," he said, adding "That speaks to the need for perseverance."