Maize & Malaria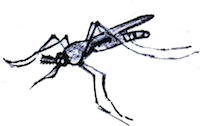 This 25 minute documentary short details the recent research of the Frederick S. Pardee Center for the Study of the Longer-Range Future Director ad interim James McCann. Prof. McCann is a principal investigator for a five-year Rockefeller Foundation-funded study of the links between maize and malaria in Ethiopia. Through interviews conducted at a research meeting at Pardee House in December 2011 and other existing footage, this video reports on the maize-malaria connection and reviews the discovery, extent and consequences of the link and potential remedies from the perspectives of agro-ecology, entomology, and human ecology. This case study may inform further research on the links between large-scale agro-ecological shifts and coincidental incidences of vector-borne diseases.
Background
Maize production dramatically expanded in sub-Saharan Africa in the 1980s as part of a multilateral policy to increase local food supplies. By 2020, maize is expected to become the world's dominant food crop.
Meanwhile, the burden of malaria has progressively increased in a spatial and temporal pattern consistent with maize cultivation. Maize pollen shed to the environment provides substantial nourishment for Anopheles mosquito larvae and promotes development of more robust adults. Intensified maize cultivation thereby contributes locally to the force of malaria transmission. The apparent maize-malaria link is an unanticipated consequence of the dramatically changing agro-ecological dynamics of food crop production in Africa, and has obvious implications for the smallholder farmers in the region.
Intensified Maize Cultivation Enhances Malaria Transmission in Ethiopia
A research project led by Boston University and supported by the Rockefeller Foundation.
Principal Investigators:
James McCann, Professor of History and Director, ad interim, The Frederick S. Pardee Center for the Study of the Longer-Range Future, Boston University
Richard Pollack, Research Associate Professor, Department of Biology, Boston University
Research partner institutions:
Ethiopian Ministry of Health/World Health Organization
African Studies Center, Boston University
Harvard School of Public Health
Ethiopian Institute for Agricultural Research
Additional footage of the research project in Ethiopia will be available on the Pardee Center Tumblr.